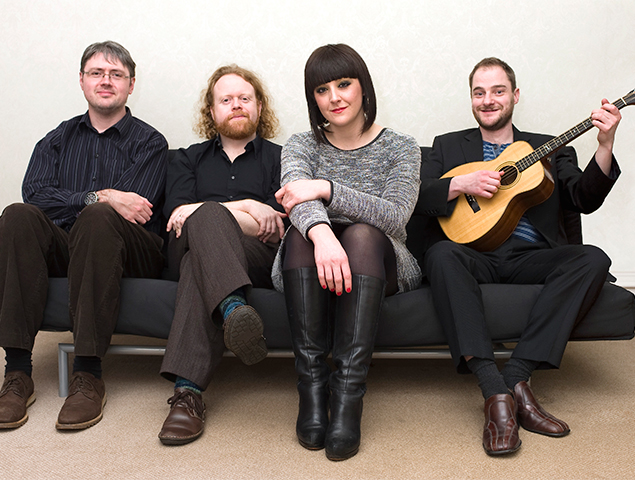 Malinky celebrated twenty years as a band, with a programme of new songs and an all-star line-up of special guests at the Glasgow Royal Concert Hall. The performance presented a wealth of opportunity for the audience to join in on choruses and refrains, and despite the sit-down concert environment, which may put off the audience from joining in from the fear of disapproving glances and judgment from fellow concert-goers, Steve put the audience at rest from the outset by inviting us to join in with the North East ballad, The Forester, which has the familiar melody and the well-known "Diddy-aye-oh, sing fal-lado, sing diddy-aye-oh, aye ay" refrain of the ballad, Battle of Harlaw. A ballad with great question and answer sequences, The Forester, was a duet between Fiona and Steve and was skilfully accompanied by Mike Vass on guitar and guest musician Euan Burton on bass. Mark Dunlop's whistle lines floated beautifully around the lyrics, fittingly linking verses and refrains.
Next up, was a brilliant interpretation of The Braes o' Broo. with brilliant interplay and harmony singing between Fiona and Steve. An unusual bothy ballad sung from the perspective of a women, I first heard The Braes o' Broo, from the singing of The Speirs Family. Featured in Volume Three of the Greig-Duncan Folk Song Collection, the Braes o' Broo dates back to 1850 in oral tradition, with a version found in the collection being attributed to Mr William Watson, New Byth.
Mark Dunlop took the lead on the beautiful Maid of Doneysheil, a song from County Antrim, dating from 1934, which featured in Sam Henry's Songs of the People collection. Mike's tender guitar introduction and accompaniment complemented Mark's skilfully ornamented voice. Fiona's low harmony was subtle yet so beautifully effective against Mark's voice – showcasing her versatility as a singer, both as a frontwomen and harmony singer.
Next was the first guest singer of the evening in the form of Ellie Beaton from Folla Rule, Aberdeenshire. Ellie sings with her band, The Rowies, and at 16 years old has established herself as a talented ballad and bothy ballad singer, winning several awards in the competitive ballad circuit. Sleepytoon tells the story of a farm hand being hired at a hiring fee and agreeing to the farmers "reasonable" offer only to realise the conditions of the work were less than adequate. Found in Volume Three of the Greig-Duncan Folk Song Collection and John Ord's Bothy Songs and Ballads of Aberdeen, Banff, and Moray, Angus and the Mearns. The farm in question was originally named Christ's Church until the 1870's when it became known as Sleepytoon. The farm still exists and can be found between Rhynie, Insch and Alford.
A great interpretation of the well-known North East bothy ballad, Ellie commanded the audience's attention from the outset, with her strong voice and storytelling capacity. Ellie has a firm and authentic grasp of the North East dialect, leading the audience with the refrain and Injecting humour into the song "we'll maybe see auld adam yet, jist at his dish o' brose, and I'll gie him a len o my hankie, tae dicht his snottery nose". With not only her voice, but her thoughtful and personable introduction and stage-craft, Ellie Beaton is a singer to be reckoned with.
Dàibhidh Stiùbhard, a young traditional singer from County Tyrone was the second guest singer, who contributed a chilling version of the Groves of Donaghmore, which provided a welcomed contrast to the North East ballads in the programme! A crystalline voice with flawless ornamentation, it is clear through his performance that Dàibhidh is a singer who puts his raw feeling and emotion into a song – a true storyteller, who I will certainly be looking out for.
With a return to the Greig-Duncan Collection, Cameron Nixon from Peterculter, Aberdeen contributed a breath-taking interpretation of the Child ballad #203, Baron o' Braickley. Cameron is currently studying Traditional Music at The Royal Conservatoire of Scotland and attended the National Centre of Traditional Music at Plockton. The ballad recounts the feud between the Gordons of Brackley and the Farquharson's of Inverey. Cameron's storytelling, along with the accompaniment, creates a modern interpretation of a historical ballad which corresponds to two historical incidents which occurs in 1592 and 1666. There was great interplay between Fiona's cello accompaniment and Cameron's crystal-clear vocals. Steve joins Cameron in harmony, their voices powerful and moving. Cameron's delivery of the ballad can only be described as technically flawless and extremely emotive – a singer of which we will undoubtedly be hearing much more from.
It was a real treat to hear the founding member of Ceolbeg, Barbara Dymock, a true stalwart of the folk scene. A singer which I have had the pleasure of listening to in an unaccompanied setting at Cullerlie Traditional Singing Weekend and meeting at several folk festivals, Barbara performed songs written by Allan Ramsay and Robert Burns. Gie Me A Lass and Tarbolton were two great contrasting songs on whether it is better to marry for love or money! Barbara and Fiona's voices proved so powerful and fitting for these upbeat songs. Barbara then joined Malinky on bodhran for a short instrumental tune.
It was my first time hearing County Antrim singer and All Ireland Fleadh Cheoil na hEireann traditional singing competition winner, Len Graham live. True Lover John features in Sam Henry's Songs of the People collection and was collected on 17th April 1937 Henry from Frank Thompson of Priestland, County Antrim. Len is a master of his trade, his voice perfectly ornamented, and his delivery rich with emotion.
Malinky's final guest singer I have known for several years, and five-time Bothy Ballad World Champion is Hector Riddell from Finzean, Aberdeenshire. At 81 years of age, Hector, who was only introduced into the world of ballads and bothy ballads relatively recently, is a showman – a performer with zest and fire who knows how to get even a concert hall audience singing or humming at the least! His rendition of the well-known entertaining bothy ballad written by George Morris, The Hash o' Bennagoak featured all the singers on the chorus and was received with a tremendous round of applause.
The show ended with everyone singing an unaccompanied song (albeit Barbara's bodhran and Mike's shaker) Away Wi Ma Laddie. The Angus song was relatively unknown until Steve, with others introduced it to 300-400 Angus schoolchildren. It finished the gig off perfectly and for me, being able to see one of the youngest and one of the ahem… most mature singers in one programme performing with Malinky was a real treasure and a concert not to be forgotten.
My only qualm is that despite the best efforts of the band to get everyone singing, it still felt as if people were reluctant to sing and join in as loudly as they could have and weren't quite "ripping into it" so to speak, even on the songs with the great rousing choruses and refrains. I think this is because of the concert hall environment – in a folk club, with this great programme of songs which lend themselves to audience participation, I trust fully that you would hear the entire floor singing at the top of their lungs.
Nevertheless, Malinky's performance proves, that after twenty years as a band, they are as fresh, formidable and innovative as ever, paying homage of their respective traditions whilst showcasing a host of guest singers of all ages and experiences– exemplifying the universalism of folksong and supporting the idea that our ballads and folksongs transcend background and generation. The evening provided a varied and enchanting collection of songs which stands as a testament to tradition and a celebration of the work of Malinky. A singer's delight.
Iona Fyfe