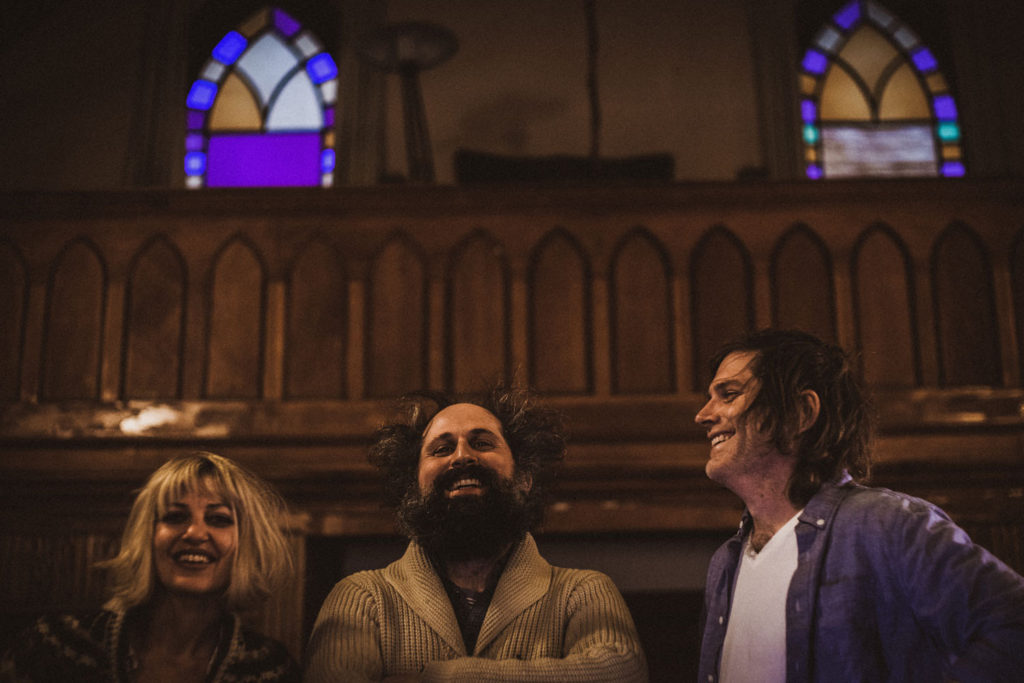 On Thursday 30th January, I gid tae see Anais Mitchell's Campfire at Saint Luke's in Glesca as pairt o' Celtic Connections.
The hale performance wis billed as Anais Mitchell's Canpfife wi' Kris Drever and Sam Amidon. The audience wis actually treated tae a muckle bill wi Roxy Plain and Bonnie Light Horsman.
I hae tae admit, I wisna familiar wi' much o the repertoire fae Bonny Light Horseman, Anias new project wi' Eric D Johnson and Josh Kaufman thit his been described by yon Rolling Stone as a "new folk supergroup". I wis mair familiar wi the braw album o Child Ballads thit she released wi I' braw Jefferson Hamer. Onywey, the evenin' hid a range o' folksong, self-scrieved sangs an' storytellin fae aa.
The first act oan wis Bonny Light Horseman, thit hid sic a thick an' fuul soond, wi' drum kit, electric guitar, an acoustic guitars. I' seicond sang wis ca'ad The Rovin. Which soonded like it wis inspired by yon sang "Hannah Loving, Hannah". I heard this sang fae Arthur Johnstone, bit it wis featured in Jean Ritchie's seicond edition o 'Folksongs of the Southern Appalachians' (University Press of Kentucky 1997).
"I went to church on Sunday
My true love passed me by
I knew her mind was changing
By the roving of her eye.
By the roving of her eye,
By the roving of her eye,
I knew her mind was changing
By the roving of her eye. "
Bonny Light Horseman his altered this, wi' the lassie in question bein ca'ad Annie instead.
"I go down to the water
When everyone's asleep
And I think of loving Annie
Wherever she may be
The roving
The roving of her eye
I knew her love was changing
By the roving of her eye"
It his bin scrieved by StereoGum as a "folk-pop stunner". An I couldna agree mair! It got abdy gaan. The neist sang wis anither Bonny Light Horseman sang ca'ad Jane Jane, a duet atween Johnson and Mitchell thit wis first collected in 1939 in Mississippi.
Neist wis singer Rozi Plain, fa wis jined by Sam Amidon on I fiddle an' Kris Drever on guitar. Her sang In A Circle hid a beautiful dissonance aboot it. Baith sangs were affa chilled oot. Neist wis Kris Drever's turn. The hoose band disappeared an the audience were treated tae an intimate solo performance. Fit a clear vice, an spellbindin finger-pickin guitar style. Fits the Doric equivalent o' "exceptional?". He played his Radio 2 Folk Awards Best Original Track nominated sang, Scapa Flow 1919. Masterful clarity. Braw. Files he admitted that there wisna muckle time tae collaborate wi the hale band, he wis jined by Josh Kaufman fir a rendition o his sang "Beads and Feathers".
Neist up wis Sam Amidon, fae Vermont. He played fit he described as a "psychedelic gospel song" ca'ad Dry Bones, fae his EP Fatal Flower Garden. This sang wis in Harry Smith's Anthology of American Folk Music. His vice wis hauntin' an enthrallin an commanded aa the attention o I' audience. Sam played a cover of The Lucky Cloud by Arthur Russell. An' switched tae banjo. Yon sheer maistery o his instruments wis commendable. This sang wis accompanied by band ina which really brocht I' sang tae life.
Aifter the break, the "campfire" wis in fuul swing wi' Eric D Johnson leading the first sang – fit a power ahin his vice. Foo ticht Bonny Light Horseman wis thigither wis nae surprise takkin intae consideration I' calibrate of I' musicians onstage.
Kris Drever wis brocht back on wi a rousin' version o "Farewell To Fiunary". The soonds o' abdy singin' the chorus filled I' room an' Sam Amidon's backing vocals wis braw, but mair audience participation cid hae happened. Invitin the audience tae sing in the chorus – wid add tae the "campfire" vibe.
Rozi Plain took tae the stage again wi a cover o an Ivor Cutler sang, her vice clear wi bonnie vibrato. Anais harmonies were just perfect. It seemed like it wis collaborative practice at its finest. Rozi's vice soared abeen a simple arrangement.
Eric an Anais gied us a braw duet o Nazareth's "Love Hurts". They hid taen their version fae Emmy Lou Harris. My highlight o the nicht wis probably Sam Amidon's duet wi' Anais. "I Bid You Goodnight" wss from the singing of Joseph Spence and the Pinder Family. This was a fitting end to the evening.
The hale show felt jist a wee bittie under-rehearsed, bit we can let these brilliant musicians aff takin inti consideration the fact that this show wis jist an ane-aff.
An encore wis off course expected, bit they admitted thit they didna kain fit tae dee. They did a version o Bright Morning Stars, aff o the new Bonny Light Horseman album. Nae abdy kint this, but they got a haud o' it. A braw gig.
Iona Fyfe