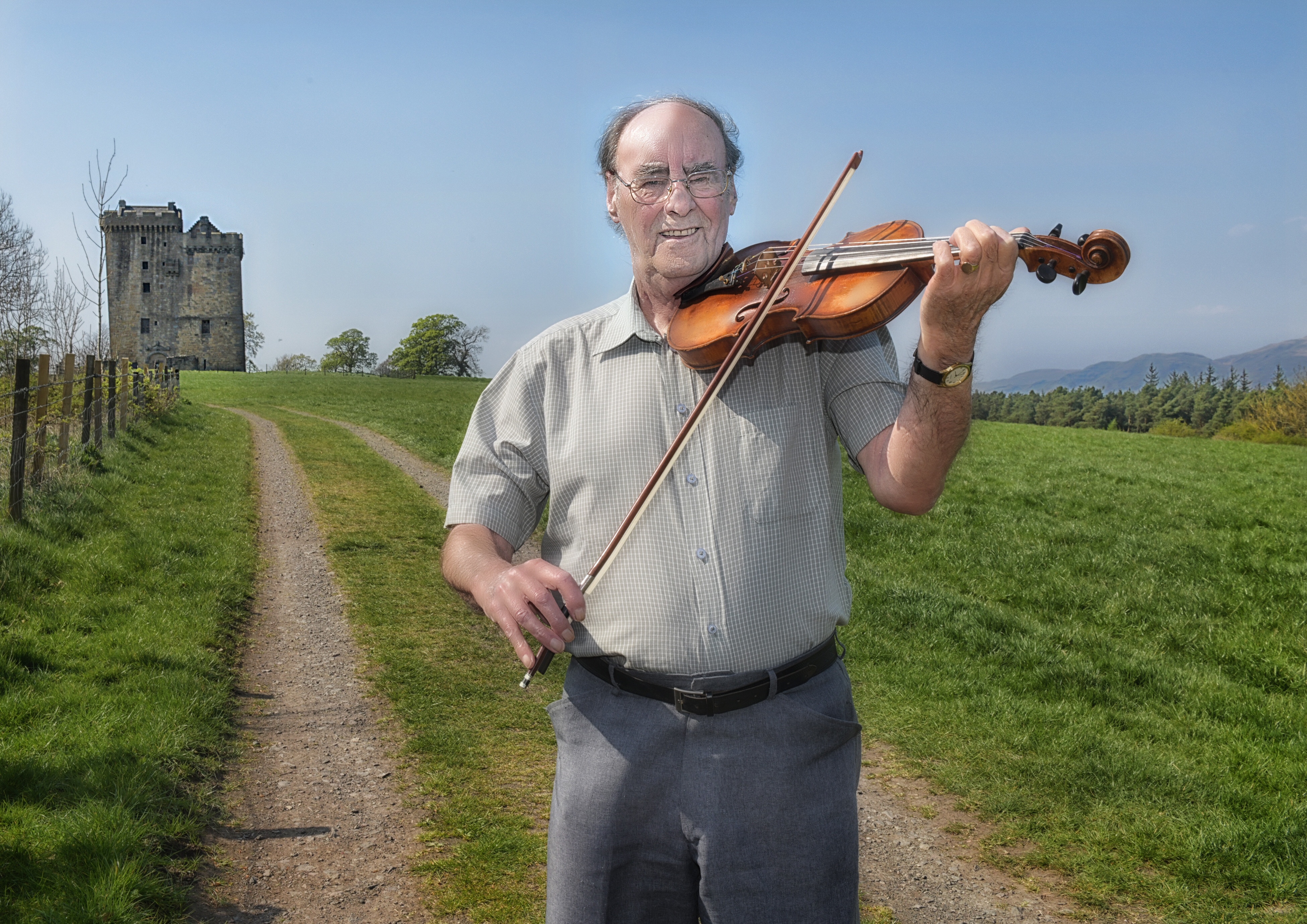 William (Bill) Cook has been supporting his local traditional music scene in Clackmannashire by creating education and performance opportunities for the last fifty years. His work has seen Stirling and the surrounding area cement it's own fiddle tradition as well as develop generations of players, from children to adults through his work as leader of the Stirling Caledonian Strathspey and Reel Society and president of the acclaimed Scottish Fiddle Orchestra (SFO). Through these projects, as well as an extensive career as an in-school violin teacher, Bill has maintained and developed the music tradition and opportunities that exist in his home area.
Bill's music career started after he decided to join the army, leaving his architectural apprenticeship which he started upon leaving school. When in the army, Bill joined the army band playing the fiddle, and continued to do so for 6 years. After leaving the army he embarked on what would turn into a 30-year career of teaching violin in schools across Clackmannashire, based in a secondary school and being a visiting teacher in several primary schools. After teaching on the syllabus and seeing a gap in the curriculum for traditional music, Bill liaised with the Scottish exam board and successfully had Scottish traditional music included in the exam system, specifically ensuring that fiddle repertoire was included in the formal teaching of violin in secondary schools.
After the sudden death of his father (James Cook) in 1970, Bill stepped in take the role of leader of the Stirling Caledonian Strathspey and Reel Society, a non-profit music society who meet weekly to learn and play material. Bill collects the entire repertoire, some from memory and some actively sought out from sources, writes it out and teaches it to the numerous members of the society. They also have an annual concert at the Annual Fiddler' Rally to showcase their work throughout the year, as well as smaller guest local performances.
Alongside this, Bill has been the president of the Scottish Fiddle Orchestra for thirty years, overseeing some of their prestigious concerts up and down the country in famous venues such as the Usher Hall in Edinburgh, Glasgow's Royal Concert Hall and the York Barbican. Bill has over 100 members in the SFO, who all go through an audition process to join the orchestra.
As well as his teaching and involvement with traditional music in his community, Bill also has an extensive performing career not only with the SFO, but with regular local gigs with his ceilidh band. This gives him the opportunity to play for dancing in smaller intimate venues, alongside his regular formal concerts.
Through his many outreaches, Bill has, and continues to, cement the traditional music scene in Clackmannanshire, making it accessible and available to people of all ages. His extensive teaching in many different settings has seen generations of local people learning and celebrating Scottish fiddle tradition.