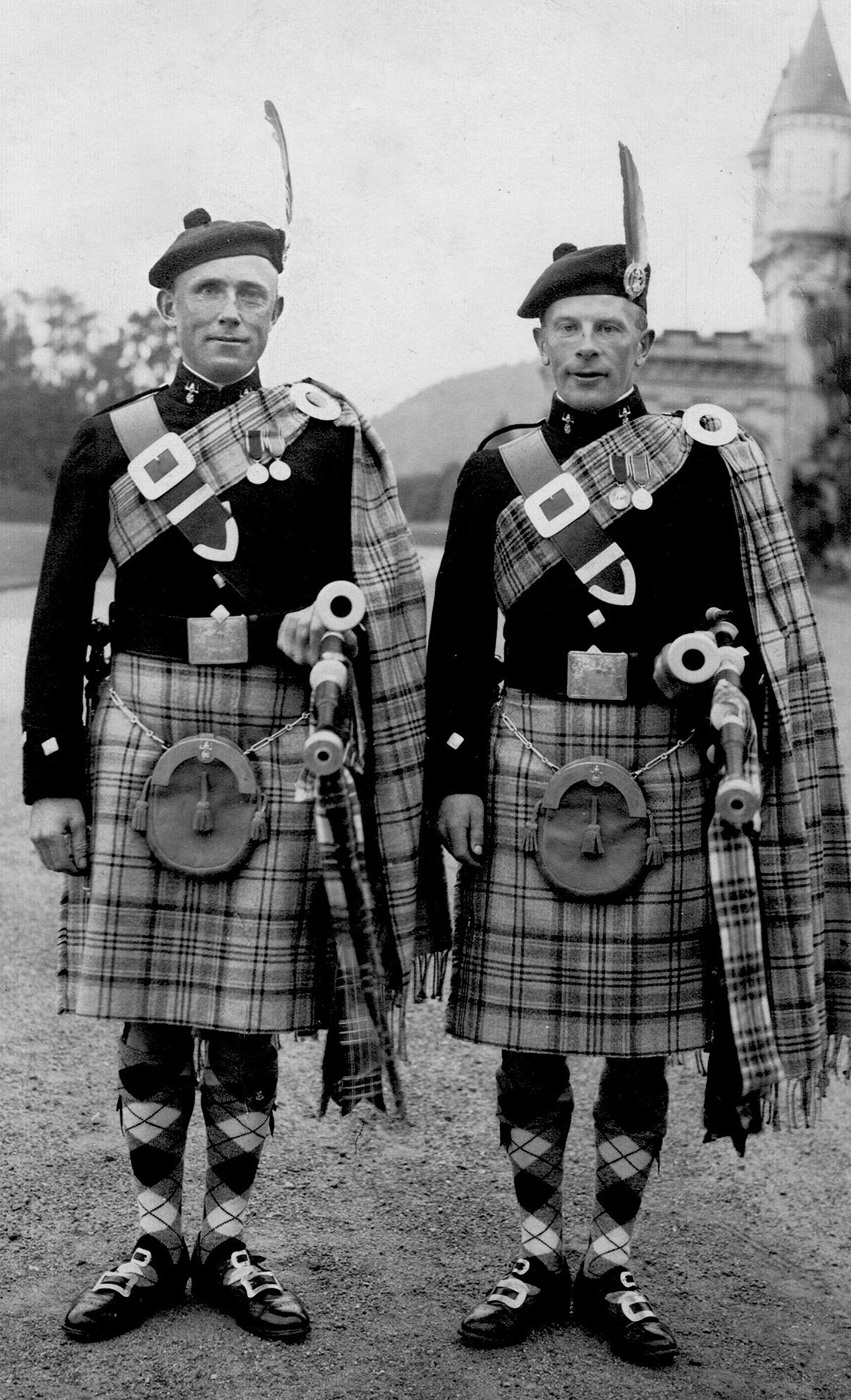 Robert Brown and Robert Nicol known in piping circles as the 'Bobs of Balmoral' shared a deep and abiding enthusiasm for piobaireachd, the classical music of the Great Highland Bagpipe. It was out of their affiliation with the renowned piper John MacDonald of Inverness that their life-long commitment to the teaching and perpetuation of Ceòl Mòr (the big music) grew. As musicians and as world citizens, their lives remain an inspiration to pipers everywhere. It is upon the shoulders of these great teachers and piobaireachd authorities that today's pipers and instructors stand.
Robert Urquhart Brown was born on 1st May 1906 and began piping at the age of 10 under the tutelage of William Fraser. He was employed as a piper and ghillie at the Balmoral Estate and in 1928 he was sent, along with Bob Nicol, to John MacDonald MBE (Inverness) for lessons. According to Brown, this was the most important event in his piping life. "I owe my knowledge" he once said, " to John MacDonald who made me the piobaireachd enthusiast that I am". Certainly it is partly through his long and close association with John MacDonald that he came to be looked on as a great authority. But this was also due to his own clear and reasoned expositions on his subject, and his unfailing ability to produce great music whenever he played. Bob Brown and Bob Nicol were taught together, practiced together and worked together on Balmoral Estate.
Known for his fluidity of style Brown won the Gold Medal for Piobaireachd at the Northern Meeting-Inverness in 1928 and at the Argyllshire Gathering-Oban in 1931.
His main occupation was as a fishing ghillie on the Balmoral estate but also worked on the hill. At the outbreak of the Second World War Brown was pipe major of the 5/7th Gordon Highlanders, originally a territorial battalion. Bob Nicol was his pipe-sergeant. Brown saw action at the famous Battle of El Alamein in 1942. He returned to the UK in 1944 as pipe-major of the 1st Battalion Gordon Highlanders.
His fame and standing increased during the 1960s with pipers beating a path to the door of his cottage at Balmoral and again when he began to take his knowledge to different parts of the world. For several years he was the instructor at the Invermark Summer School in New York State and visited South Africa.
While he was on his way to an engagement in Australia in 1972 Brown suffered from thrombosis in the leg which proved to be troublesome but initially seemed to respond to treatment. However, after judging in Hobart, Tasmania at the Australian Championships, he was forced to abandon his tour and return to Scotland where he died a few days after arriving at his home.
R U Brown Gold Medal for Piobaireachd Playing  is now regarded as one of the premier piping events in the Southern Hemisphere.
Robert Bell Nicol was born on December 26 1905 in the parish of Durris in Lower Deeside. His father, from Banchory in Aberdeenshire, was a fishing ghillie on the Dee and his mother was from Moidart, and a Gaelic speaker. He began piping at the age of seven. He was first taught by a piper MacKellar, a pupil of John MacDougall Gillies. When MacKellar was killed in the First World War, Nicol received instruction from Charles Ewen in Aberdeen.
He was appointed piper to Lord Cowdray, Dunecht before moving to Balmoral as piper to King George V in 1924. He lost an eye in a shooting accident in 1926 when he was only 20 years old. The king was anxious that Nicol receive the best piping tuition and the same year, after consultation, he was sent to Inverness for a month, to John MacDonald. Along with Bob Brown, the visits continued every year until 1939.  During this period Nicol became one of the outstanding players, winning all the top honours including the gold medal at Inverness and Oban in 1930 and the Clasp in 1932. His medal tune at Inverness was "Lament for Donal Ban MacCrimmon", a tune he was later to play at the graveside of both John MacDonald and Bob Brown.
During the war he served as Pipe Major in the 2nd Battalion Gordon Highlanders and ran a piobaireachd class for the 15th Scottish Division. A very good and firm teacher dedicated to keeping the traditional piobaireachd alive, he taught at schools in America and Brittany.
At Balmoral, at least in his later years, his employment was as a fishing ghillie on the Abergeldie beat of the Dee.
After the death of his mother he and his sister He moved to Mill of Cosh, Girnock near Ballater and later to Blacksmith's Cottages, Birkhill, his retirement home. He died an April 4 1978 aged 72.
Robert U Brown and Robert B Nicols' teaching can be heard on the Masters of Piobaireachd collection of CDs available on Greentrax Recordings.