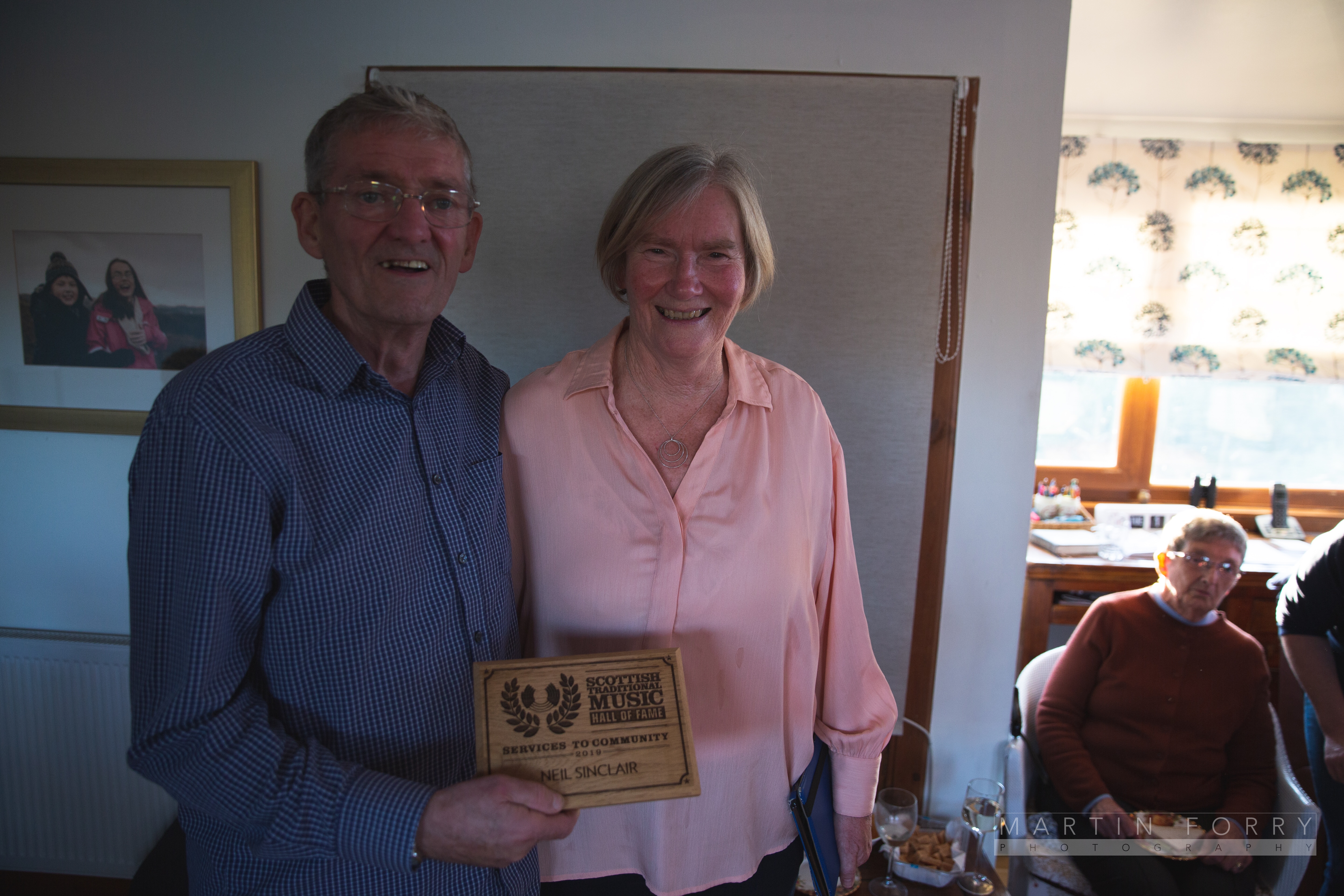 It is a pleasure to be here today to induct Neil Sinclair into the Scottish Traditional Music Hall of Fame. As you all know Niel has been spreading his love of Scottish music and the accordion for many many years and has made a difference to countless people. He has always been willing to share his skills and all of you here today is testament to that.
Being a great musician takes practice and Neil has always worked hard. From the early days when he used to come home from church and play the piano in the byre learning all the hymns and bass lines to when he got his first accordion off his uncle Neil leading his father to say that 'If only I could get my breakfast in peace!'
All this hard work paid off when Niel joined Colin Campbell and then Alasdair Gillies' bands and gigged from Wick to Wigtown and also played the Albert Hall in London. It was then he started teaching accordion and creating the stars of the future! Gary Innes, Megan Henderson, Donald Shaw, Ross MacPherson, Hector McFadyen and Andrew MacDonald were some of the few who passed through his ranks. Here's a wee message from Megan Henderson!
A huge congratulations to Neil on what is a thoroughly deserved honour. His support, dedication and skill as a teacher have had a huge impact on my musical career, and I can never thank him enough for what he has given me and many others so selflessly. Above all, he's a wonderful person. Congratulations Neil and all the family.
P.s You certainly deserve a box of Sandra Henderson's shortbread now!
Lots of love, Megan
And a message from Donald Shaw: Neil was my first accordion teacher and was a huge reason I fell in love with traditional music. He had some of the best chord progressions I ever heard for Gaelic songs!
Gary Innes said to me that Neil was an inspiration then and is still an inspiration now 🙂
Alasdair Gillies asends his best wishes and said "Neil's contribution to our music scene has been immense, passing on his talents through teaching in the Lochaber, Argyll and Inverness-shire. Supported by Shelagh, his wife, they passed on their love of music to the family and Sileas is now the most innovator of Gaelic choral music, conducting and arranging with the Oban Gaelic Choir. NOT BAD?!
Of course Neil's story has continued. He has performed all over the world including Manila – not the Manila in Kintyre – the one in the Philippines… In 1975 he was part of the group that started the Oban Accordion and Fiddle Club which is still going strong over 40 years later and also the Highlands and Islands Music and Dance Festival in 1984. He has also got a rake of compositions the world is waiting to hear!
What a legacy Neil has achieved for everyone around him. And of course lets not forget his fabulous family – Sheila, Isla, Sileas and Craig who continue on this brilliant work.
Congratulations Neil and thanks again.