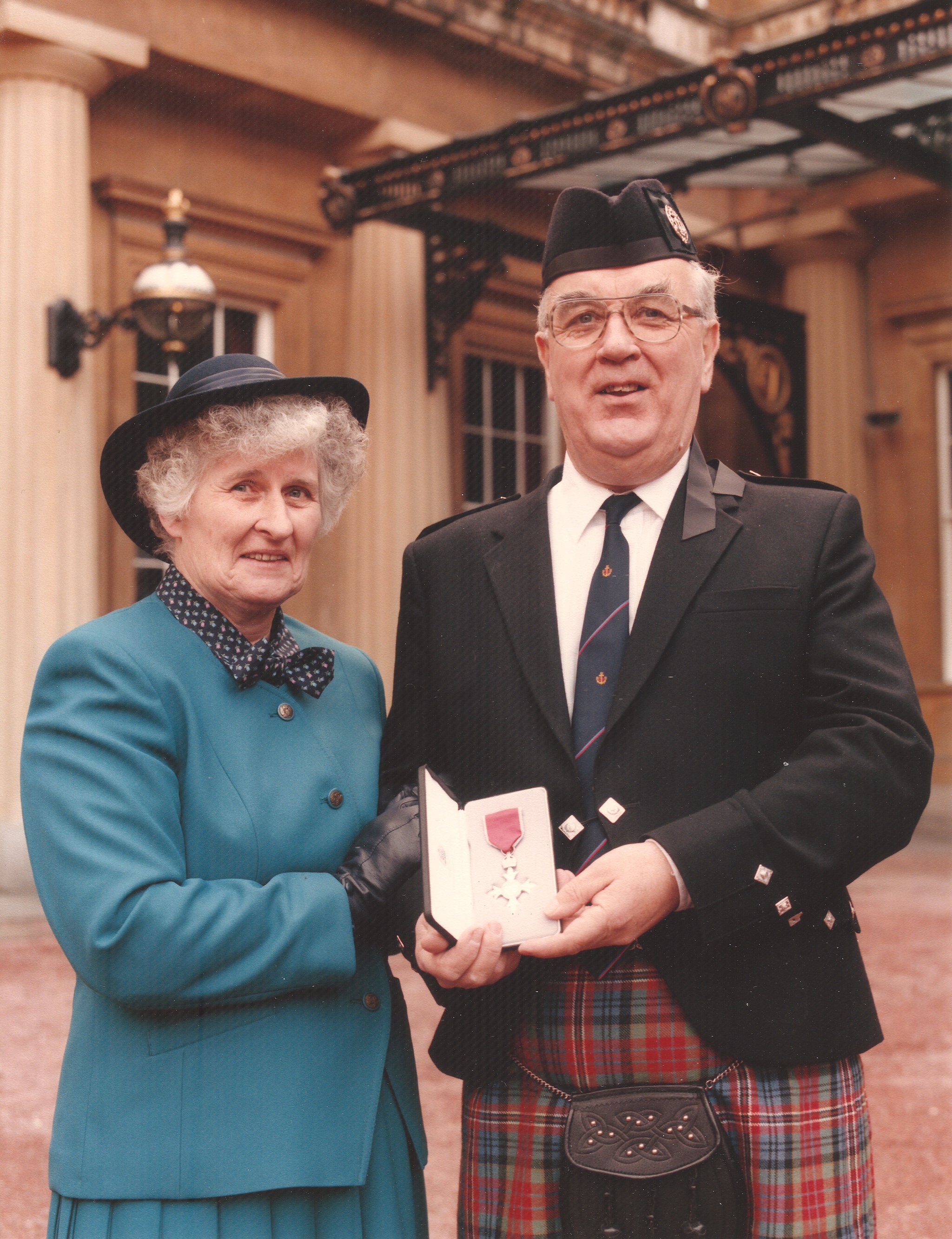 Neil Macpherson was a piper, pipe major, composer and piping instructor who devoted his life to continuing the piping and pipe band traditions through his work with the Boys Brigade and in his belief that playing the pipes gave youngsters a sense of self-worth. His efforts were rewarded with official recognition and invitations to perform in prestigious venues at home and abroad.
Neil was born in Dundee in 1925. His parents were both Highlanders and his father played in the Dundee Police Pipe Band. In 1935, the family moved to Broughty Ferry, where Neil joined the Boys Brigade and learned to play the pipes with Jock Nicholson, of the MacKenzie Pipe Band. Playing a set of pipes inherited from his uncle Duncan Macpherson, who had played with the Manchester City Police Pipe Band, Neil went on to join the MacKenzies, who later merged with the Caledonian Pipe Band to form the MacKenzie Caledonian Pipe Band. His pipes were passed on to the band, following his death in 1999, and are still played by Pipe Major Neil Nicholson.
Following a spell with the Royal Aircraft Establishment in Farnborough, where he continued to play his pipes at every opportunity, Neil returned to Scotland in 1957, moving first to Edinburgh. In 1959, he settled in Currie, Midlothian, where he joined the local parish church.
A fellow churchgoer, Jack Dyer, suggested that he and Neil form a Boys Brigade company attached to the church and in 1961 the 65th Edinburgh (Currie) BB Company was born. As part of his officer's role, Neil decided to teach the pipes and within a short time the 65th company was marching on parade behind its own pipe band. Word of the band's prowess reached the producers of the BBC's Blue Peter and they were invited to perform on the programme.
The band also went on to beat the retreat at Edinburgh Castle every year and was invited to appear on This is Your Life when the Edinburgh-born Olympic Games gold medallist Allan Wells, himself a former member of the Boys Brigade, was featured on the television show in 1982.
In 1983, the Boys Brigade marked its centenary and as part of the celebrations, the 65th band was invited to play at the Royal Albert Hall in London and at Ibrox Stadium, where Neil choreographed highly involved marches and selected and taught tunes to BB bands from all over Scotland. That same year the Edinburgh Battalion BB Pipe Band was invited to perform at the Edinburgh Military Tattoo and the 65th took part in this with Neil as Battalion pipe major. They repeated this in 1986, 1990, 1991, and 1992 and having spent hours rehearsing the tunes chosen, Neil was proud when the army pipe majors commended his boys' high piping standards.
Through its association with the Danish BB, the FDF, the 65th company visited Copenhagen and during this trip the pipe band played in the prestigious Tivoli Gardens on a bill with internationally recognized performers.
Neil's dedication was such that in these pre-personal computer and laser jet printer days, and while working full-time as an engineer with Ferranti for thirty years, he would notate each piper's part himself on manuscript paper he laid out with Indian ink and a ruler. He also spent hours looking through old music books for suitable repertoire and composed tunes including the winner of the Dundee Battalion BB Centenary Pipe March Competition in 1991.
He was appointed MBE in 1989 and was presented with his medal by the Queen at Buckingham Palace, a proud day and well-earned recognition for a tireless worker on pipe music's behalf.