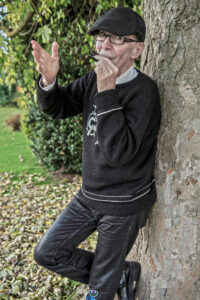 A multi instrumentalist on electric & 6/12 string acoustic guitars, mouth harp, drums, percussion and his show-stopping mouth percussion, Mike Whellans, also a fine singer and songwriter, is a long time fixture on the British and European club, concert, TV, radio & festival circuit, as a solo performer, band leader and session musician. 
Born in the Borders at the end of WW2, Mike began his musical life in the late 1950s early 1960s playing his fathers drum kit, and by the age of 14 was playing in local dance bands. In 1969 he decided to turn professional and very soon released a first solo album.
In the early 1970s, Mike was a member of the traditional Scots-Irish band, Boys of the Lough. He also worked in a duo with Shetland fiddler Aly Bain playing flat-pick guitar. The pair gaining a reputation as a very dynamic duo.
During the 1980's and 90's while living in Denmark, he toured all over Scandinavia and in Germany and the Low Countries, as well as working back in the UK with The Vindscreen Vipers Skiffle Group (Tich Frier, Bill Nolan, Malky McCormack and the late Danny Kyle).
Back living in the Scottish Borders, Mike with his boundless energy continues to work as Scotland's one-man blues band with his guitars, mouth-harps, vocals and drum-kit – and of course his show-stopping, "mouth percussion"; a real tour de force.