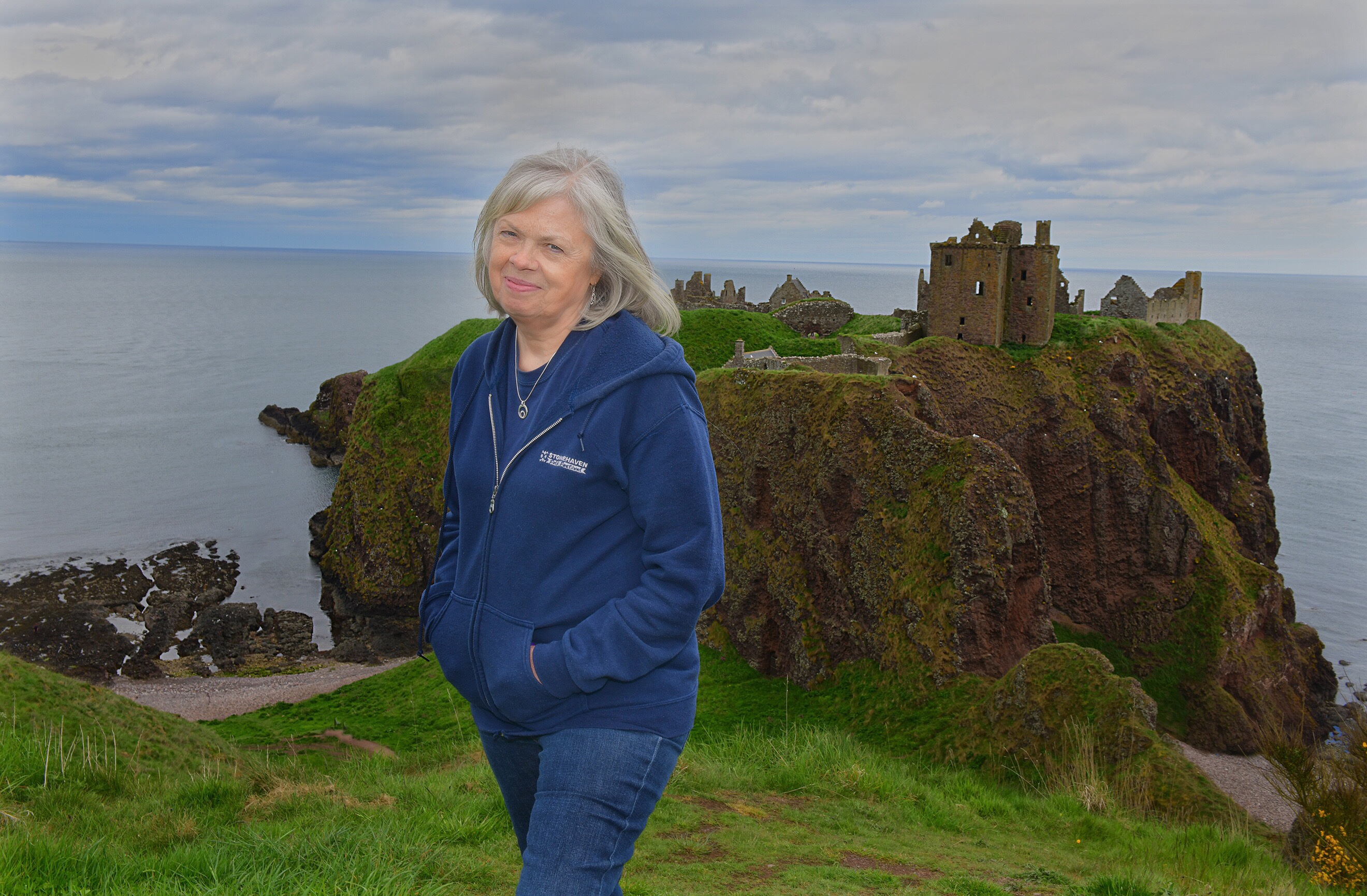 Since moving to Stonehaven in the mid 80s, Meg Findlay has been making a huge contribution to the traditional music scene in the North East of Scotland by setting up, and has ever since been helping to run, Stonehaven Folk Club 32 years ago. She then set up Stonehaven Folk Festival a year after the Folk Club, saturating the small town with traditional music for one weekend a year.
Meg was brought up on a farm, although she comes from a musical background, with her Father a keen singer in local productions and her Grandfather contributing to the Carpenter Collection. From her teens Meg was part of the Young Farmers, seeing her contributing to local events and aspects of the community as well as perform songs with her guitar.
She left Fraserburgh Academy, moving to Aberdeen to study as a Medical Secretary, then worked in a psychiatric hospital for a number of years, before moving to oil industry roles.
Her interest in people and hard work saw her travel to Australia for a 6 months on a Young Farmer exchange visit.
On her return to the UK, she worked in recruitment & development for graduates, helping them gain necessary experience to work in the oil industry. Finding the interpersonal work very rewarding, in the early 90s Meg went on to study for a PG Diploma in Personnel Management.
During the late 80s, Meg met some like-minded people in Stonehaven and started the folk club in the wine bar that she was involved with. A year later, they were inspired to start a festival in the town. The festival and folk club are ran separately but Meg is a core member on both committees. Since the festival's inception, Meg has attended it every year, bar 1999 when she went to Australia, but ensured that the whole festival was organised before she left so it could run in her absence. Aside from hosting some of the best known artists in traditional music, Stonehaven Folk Festival has held some less conventional events, for example achieving the Guiness World Record's Largest Ceilidh Band!
As well as being on the committees of the folk club and festival, in her retirement Meg has become a member of the Scottish Culture and Traditions (SCAT) board, who promote Scottish music by organising adult instrumental classes and a youth camp.
Through her work, Meg has made friends with people all over the world, describing how much she values hosting the artists that come to play at the folk club. Alongside achieving the World's Biggest Ceilidh Band, Meg cites winning Stonehaven Paper 'n' Comb Championship as one of her career highlights!
Despite the challenges that come with organising a festival and folk club, Meg prides herself on keeping them both running against all odds. Meg credits young people and their enthusiasm for traditional music for the continuation of the industry.
Insistent on loving what you do, in her own words: 'Sometimes you just need to come to Stonehaven and have a shot at paper and comb!'.