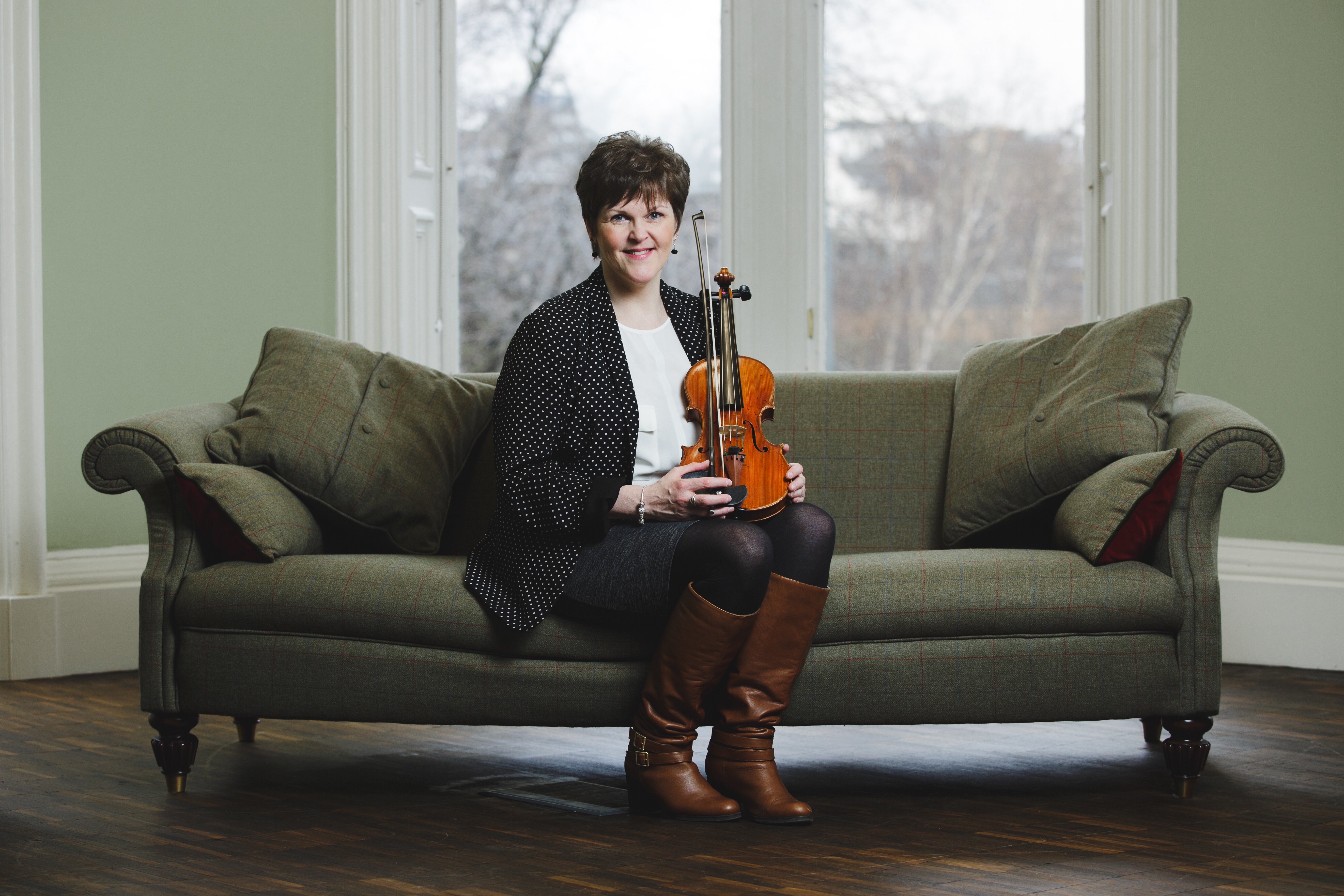 Margaret Robertson is an inspirational figure on the Shetland music scene as a fiddler, pianist, teacher and composer. She has also made an impact nationally and internationally with her own music and musicianship as well as in her capacity as organiser of the fiddle element in the Edinburgh Military Tattoo's Pipers Trail, which has visited Australia, New Zealand, Germany and Norway.
Margaret grew up in Yell in a house where an evening without music, live or recorded, was a rare occurrence. Her dad, Lell, played fiddle and listened keenly to Irish fiddle master Sean McGuire and Ian Powrie's Scottish Dance Band, two of Margaret's own early influences.
When Margaret was seven, the late champion of Shetland's fiddle heritage, Tom Anderson persuaded the local education authority to let him deliver fiddle lessons in schools in order to regenerate a tradition that was threatened with extinction. Being just under the lower age level for lessons, Margaret pleaded with her head teacher to let her join the fiddle class. Since forty-three pupils in a school register of one hundred and twenty had already enrolled, Tom Anderson figured one more would make no difference and Margaret began taking lessons in small groups.
An early memory that stands out is of the school fiddle group travelling to Lerwick, when Margaret was eleven, to open a concert at the Garrison Theatre being given by her dad's hero, and Tom Anderson's friend, Sean McGuire. That same year, while visiting family friends, Margaret's dad showed her three chords on the friends' piano. She was instantly smitten by the idea of harmony and tunes sounding so much grander and although there was no piano at home, Margaret mastered the keyboard by playing an old piano accordion of her dad's.
When Margaret was fourteen she moved to Lerwick to attend Anderson High School, by which time Tom Anderson's former pupil Trevor Hunter was her fiddle teacher. She played in school concerts and won the Shetland Young Fiddler of the Year competition at the age of fifteen in 1982. That same year Margaret was thrilled to play piano for Sean McGuire when he returned to Lerwick.
Margaret left school in May 1983 and by the following September she had been appointed part-time fiddle instructor at Anderson High. She turned full-time two years later and allowing for an extended maternity leave break from Shetland Islands Council, during which she continued teaching privately, she has been passing on her skills ever since.
Watching young players develop is, she says, a real joy and she particularly enjoys going to concerts given by former pupils. Among these are her sons, Ross and Ryan Couper, both now professional musicians who followed Margaret in winning the Shetland Young Fiddler of the Year title, Ryan winning twenty-five years after his mother before going on to play guitar.
As a composer Margaret is a self-confessed late starter, who was so annoyed that she couldn't get into Lerwick to join Simon Thoumire in a session he'd put the word out about that she sat down and wrote her first tune at the age of twenty-eight. Many others have followed, some to order, some hummed or whistled while driving, and have featured on Margaret's own two albums, and on her extensive discography.
Her recorded output includes albums from the Edinburgh Military Tattoo, for which Margaret was asked to put together – she thought at the time – a one-off Shetland fiddle ensemble to join the massed pipe bands in 2014. Through energetic fundraising a ninety-seven-strong ensemble took part and Margaret now draws on and administrates a pool of over two hundred fiddlers of all ages to fulfil the Pipers Trail engagements.