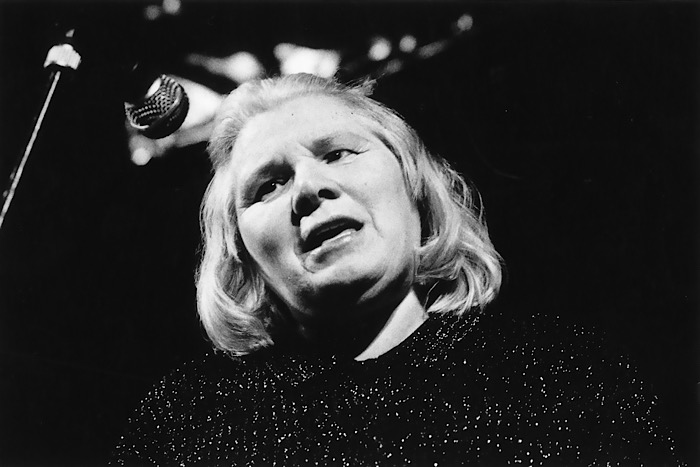 Lizzie was born in the Guest [ghaist = ghost] Row of Aberdeen, an ancient side street which was to vanish under desperately needed slum clearance in the 1950s. Her parents were settled Travellers: Donald ('Donty') Higgins, a piper of great repute, and Jeannie Robertson. In the house also was her uncle Isaac ('Seely') another fine piper.
Brought up as a town child with a love and respect for learning, Lizzie at the age of twelve had her world shattered when her school was twice bombed during the Second World War and her mother moved the family 17 miles west to the country town of Banchory on Deeside.
Whilst in Banchory school she learned what it was to be abused, isolated and discriminated against, for the country folk especially despised the 'tinks', suspicious and fearful of their itinerant ways of life, frightening demeanour, and what they feared as their 'taking ways'. Yet they were happy enough to use Traveller labour, and every year, between 1941 and 1945, Lizzie happily spent the months from April to September pulling flax with her family, which included her Uncle Isaac and little brother James ('Jeemsie'). The Government agent, Robbie Allan, who owned the inn at roadside clachan [hamlet] of Garlogie, employed them on this essential wartime activity, and they would work along the fields of Deeside and Donside, living in a fine 'Gypsy Queen' wagon pulled by their magnificent Clydesdale horse, Tibbs. The winters and springs at school continued to be a misery and Lizzie ended her education at fifteen to work as a fish filleter in Aberdeen.
In 1953, Hamish Henderson came to record her mother, Jeannie Robertson for the School of Scottish Studies, introducing himself by standing on the doorstep and singing The Battle of Harlaw. Jeannie was thus launched on a singing career which brought her international fame, but although Lizzie was also recorded singing with her mother, she refused all invitations to perform in public, being not just shy but unwilling to be seen as competing with Jeannie. There was more to it than that, for as Lizzie later said: "The folk scene claimed Jeannie. I didnae want it tae claim me". Lizzie held out until 1967, when the late Peter Hall persuaded her to sing at the Aberdeen Folk Song Festival. With a sad irony Lizzie's debut was also to be her mother's last public performance.
She made an immediate impact on the audience, for singer and performance were both remarkably composed, to the delight of her highly supportive parents from whom she had learned most of her repertoire. From such a beginning she became greatly in demand throughout Scotland, England and Wales.
Lizzie described being taught songs by her father and grandmother Maria, (she appears initially to have only picked up Jeannie's songs by listening to her around the house) and encouraged by Maria to sing them at family gatherings – in contrast to the popular songs that the others preferred.
The following year she performed with Jeannie at the National Folk Festival (then at Keele), where both greatly impressed Vic Smith, who offered to set up a folk club tour for Lizzie, the first of many, based on the Smith's home where she displayed her considerable talents as an engrossing storyteller and conversationalist. Lizzie greatly appreciated the efforts they made on her behalf, regarding them as her 'agents'.
Travelling, however, stressed her greatly, as did the deaths of her mother and father in the early seventies, but although this was greatly alleviated by her marriage to the kindly and supportive Brian Youlden, she had many periods of ill health, from which she would recover to impress the world as a superb exponent of Scots traditional song, making two more solo recordings and appearing on a School of Scottish Studies release.
The daughter employed little of the mother's vibrato and sliding, but used similar subtle melodic changes to bring out emphasis and meaning, well demonstrated in her recordings Up and Awa' wi' the Laverock (Topic 1975), What a Voice (Lismor 1985) and her two ballads in The Muckle Sangs: Classic Scots Ballads (Tangent 1975).
Lizzie had a vivid imagination, especially visual, which empowered the stories she sang and the scenes she envisaged so clearly, and she often seemed carried away with the intensity of her beliefs. Not all her accounts seemed credible, and folk would smile when in her last years she would excuse any hesitation or defect in her singing by blaming a nervous 'catch' in her throat. It was, in fact, early cancer of her gullet, which she faced with realism and great courage when told the diagnosis in 1992. Lizzie died of throat cancer in February 1993.
Discography
The Princess of the Thistle (12″ LP record. Topic 12 T 185. Mono. Recorded by Bill Leader, notes by Peter Hall. London, Topic Records Ltd., 1969)
"Up and Awa' wi' the Laverock (Topic, 1975)
"What a Voice" [12″ LP] Lismor Folk Records 1985
In Memory of Lizzie Higgins 1929 – 1993