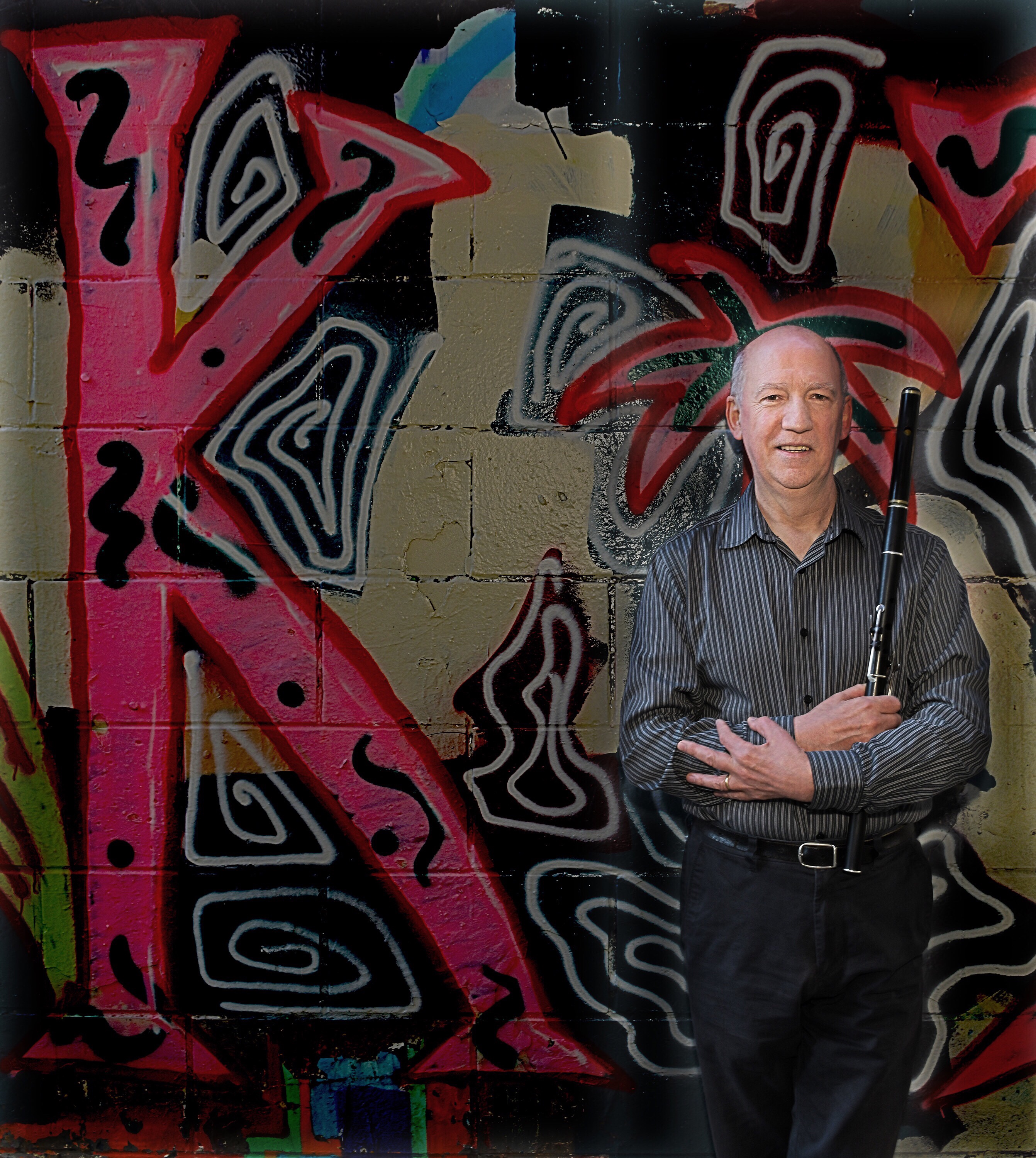 Kenny Hadden has made an enormous contribution to the traditional music scene in Aberdeen and the surrounding area. Since moving to the city to study geology at Aberdeen University in 1972 Kenny has been a central figure in the music as an organiser, a session mainstay and as a tutor, passing on his flute and whistle playing skills to innumerable pupils.
Kenny grew up in Blairgowrie and became interested at first in Irish music through hearing Boys of the Lough and Planxty. He taught himself to play the mandolin, then became more attracted to Scottish music after hearing the band Alba, which featured the Highland pipes as well as flute and fiddle.
Not long after he arrived in Aberdeen Kenny found a simple system flute in a junk shop for £10 and taught himself to play. It quickly became, he says, an obsession.
He became a regular at the weekly sessions in Ma Cameron's and the Prince of Wales, where he learned tunes from piper Alan MacDonald and accompanied the Gaugers' Tom Speirs and Arthur Watson, and joined the committees of Aberdeen University Folk Club and Aberdeen Folk Club, serving on the latter for several years. He also played and competed at folk festivals across Scotland.
In the early 1980s Kenny joined Ceolbeg, going on to win the 1984 Edinburgh Folk Festival competition with the band and appearing on their first album as well as at further festivals in Scotland, England and France. By this time he had discovered the Willie Clancy Summer School, held annually in Miltown Malbay, County Clare, and as much as he admired Irish music and musicians he became determined to ensure that Scottish music should be similarly championed, especially on the flute.
In the 1980s he became a founder of the Aberdeen branch of the Traditional Music and Song Association and in 1989 he was on the committee that established Stonehaven Folk Festival, which he helped to organise for the next seven years. Aberdeen Alternative Festival, the North-Atlantic Fiddle Festival and the Button Box & Moothies festival in Aberdeen have also benefitted from Kenny's programming advice.
When Scottish Culture and Traditions (SCAT) formed in 1997 Kenny was among the original four tutors. He still teaches flute for the organisation every Monday. For six years he taught whistle and flute at the Splore school of traditional music as part of Aberdeen International Youth Festival. He also ran beginners whistle classes in Banchory and Stonehaven from 2010 to 2013 and was flute, whistle and group work tutor at the Traditional Music Centre of Excellence in Plockton during 2011.
He has recorded with Dougie Maclean, Sheena Wellington, Aberdeen singer Bob Knight and Dundee singer Barbara Dymock and was a member of Barbara's touring band for two years.
As well as teaching the flute, Kenny is a staunch advocate for the instrument and has researched its place in Scottish music, discovering that it enjoyed parity with the fiddle in the 1750s. He has unearthed many old tunes and shares them enthusiastically.
With fellow players Kenny set up the Edinburgh Flute Fling in 2014 and organised a similar event in Aberdeen in 2017. Since taking early retirement from the Scottish Environment Protection Agency, where he worked as a chemist, he has expanded into radio presentation, sharing his love for traditional music with listeners to Aberdeen community SHMU FM.