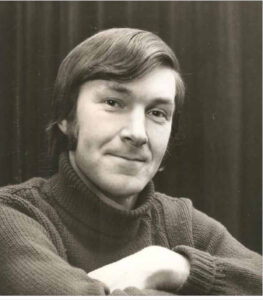 Jim grew up in Paisley in a household filled with music. Both parents were good singers and Robert Tannahill and Robert Burns were given laldy along with Sinatra and Hutch, his mother's favourite singer. Jim's father was a minor poet and sent regular pieces to the Paisley Express during the war, all signed 'Gnr R D McLean'. His politics were very radical, almost communist, so politics and songs were daily nourishment for the young Jim McLean.
Jim's politics and principles went far beyond words. He was an apprentice Radio and TV engineer in 1957 during the Suez crisis when Britain, France and Israel were in a confrontation with Egypt. Jim registered as a Conscious Objector when called to perform his National Service – a stance which earned him a six-month jail term in Glasgow's Barlinnie jail.
This gave him an appreciation of 'freedom' and when his apprenticeship was over he took to busking and travelling the world, playing the bagpipes or working where possible. He had his 21st birthday in a Bavarian Youth Hostel, 1959; spent Christmas 1961 as a deck boy on a Swedish merchant ship; October 1962 saw him in London in the Troubadour folk club where he met his future wife Alison who had just graduated from Ealing College as a photographer.
Jim moved back home to Glasgow in 1964 and worked as a TV engineer in Glasgow. Alison also left London for Durham, her hometown, and then to Glasgow before they both moved to London in 1966 and got married. After he and Alison settled in London he got a recording break when Major Minor, via producer Tommy Scott, asked him to make an LP called Scottish Republican Songs, sung by Nigel Denver. After that he produced and arranged many LPs for Nigel, Alastair McDonald, Fraser Bruce, Bitter Withy, the Scotia and The Troubadour. Most of these LPs included songs written by Jim.
In 1971, Jim and Alison formed their own record label, NEVIS Records. Jim looked after the musical side and Alison did the photography and artwork.
Jim had been writing political, anti-Polaris and Scottish Republican songs since a visit to a Glasgow folk club during his back and forth visits from Europe. Jim is very much a writer 'within the tradition'. Many of his songs naturally reflect his Scottish Republican views, which are similar to those of John MacLean, others have a broader political or social message. His political song writing does not mince words but he often relies on his natural West Coast humour to get his point over.
Many of his songs including The Massacre of Glencoe, Shores of Sutherland, Smile in your Sleep, Silver Darlings, The Barras, Henny Munroe, and Tibbie Dunbar have been absorbed into both the folk scene and wider Scottish culture. It is difficult to overstate the impact of Jim's songs on a whole generation of Scots. Some of his songs, particularly The Massacre of Glencoe and his songs about the Highland clearances became and remain popular to this day and opened many an eye to periods of Scottish history which they knew little about.