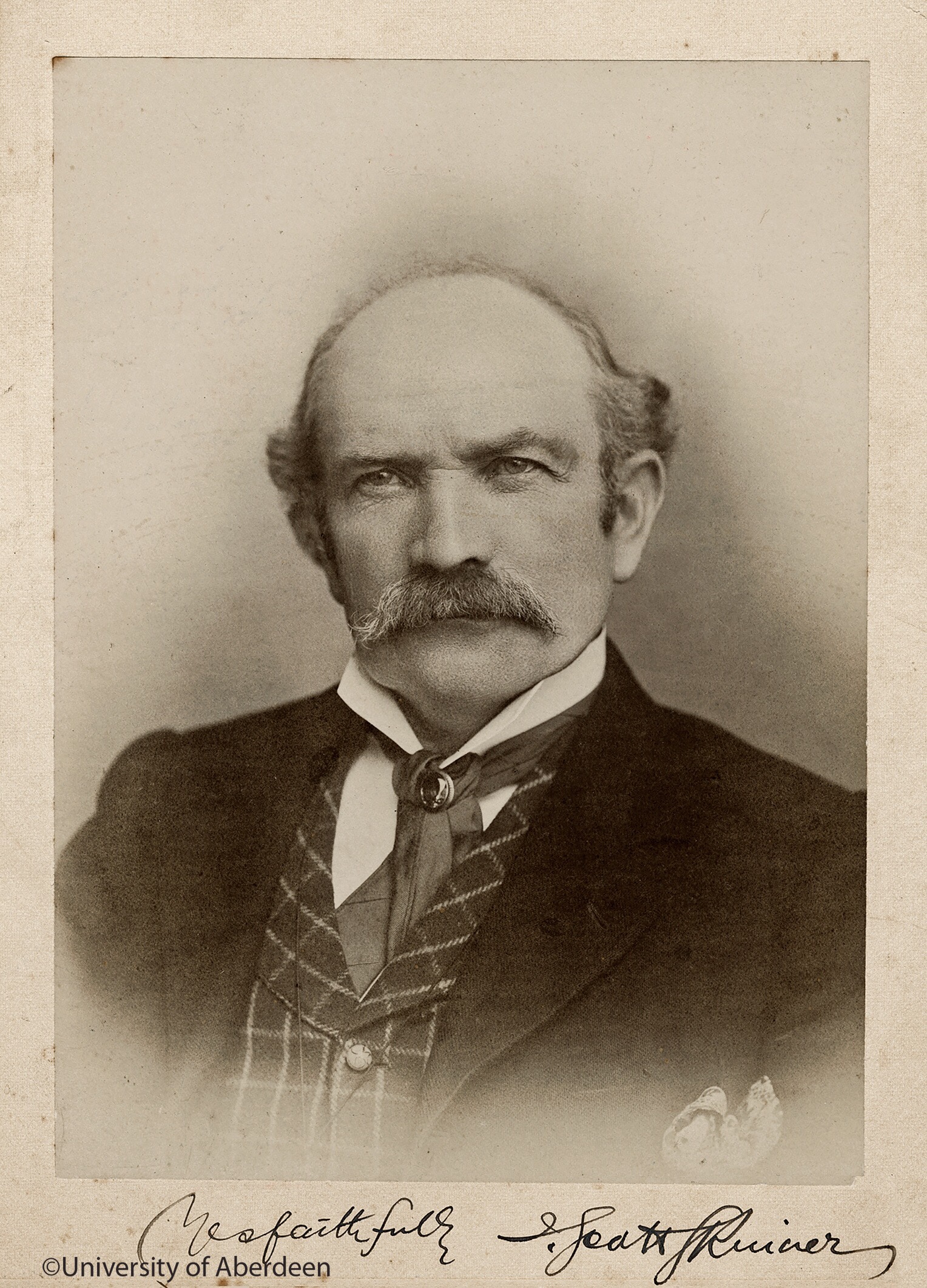 James Scott Skinner was a Scottish dancing master, violinist and prolific composer. Over 600 of his compositions were published. Among the best known being "The Bonnie Lass of Bon Accord," "Cradle Song," "Bovaglie's Plaid," "The Music o' Spey," and "Hector the Hero." In 1899 he was one of the first Scottish artists to be recorded making over 80 sound recordings over the next 23 years.
James, the son of a dancing master and the youngest of six children, was born In the the village of Arbeadie in Banchory Aberdeenshire in 1843. When he was seven years old he moved to Aberdeen to live with his sister when his widowed mother remarried. His older brother Sandy taught him to play tunes on the violin and vamp a bass line on the cello and soon he was earning five shillings a month playing at dances with local fiddler Peter Milne. It was hard earned. Writing in his autobiography he said "It was nothing unusual for Peter and me to trudge eight or ten weary miles on a slushy wet night in order to fulfil a barn engagement".
In 1855, 'Dr Mark's Little Men', a boys' touring group, visited Aberdeen. Sandy arranged for James to audition with them. James signed up for a six-year apprenticeship on cello and violin. Dr Mark was committed to the ideal of setting up a national music school for talented children. The boys, who were based in Manchester, performed throughout Britain. In return, Dr Mark fed, clothed, and educated them at his own expense. They were taught to play from memory with lessons in the morning and again in the afternoon. Every afternoon and evening, they performed in concerts. However, while still a youth, he was taught to read music by French violinist Charles Rougier and it was to him that James gave credit for his success as a composer and performer.
Returning to Aberdeen in 1861, James took a course of dancing lessons from 'Professor' William Scott. They got on so well that James adopted 'Scott' as part of his professional name, calling himself from then on J. Scott Skinner. An apt pupil he was winning competitions within a year and was soon a professional dancing master with a growing reputation. This eventually lead to work at Balmoral Castle where he taught dancing to more than 100 tenants and children.
By 1882 he was married with two children, living in Elgin, with his dance teaching taking him all over the north of Scotland. He was also publishing his musical compositions in particular the Elgin Collection, an expensive business. He was overstretched financially and found himself bankrupt losing everything. As a result, his wife, suffering from nervous exhaustion was admitted to Elgin Asylum. She never recovered and died there years later.
Returning from a disastrous tour of the United States, James made up his mind to have done with dancing and to concentrate on his fiddle playing and composing. Never known for modesty he said " With the exception of myself, there was no Scottish violinist of any eminence at this time." He also made the decision to adopt Highland dress, both on and off the stage.
By 1897 he had married for a second time and settled at Monikie, near Dundee. There he wrote some of his best compositions, and through his recordings, his music spread far and wide. Collections such as The Scottish Violinist and The Harp and Claymore were published at this time. About 1909 his wife left him and went to Rhodesia. For the next few years, between concert engagements he stayed with friends or lived in hotels.
For the rest of his life Skinner toured constantly. The high point at this time was probably his appearance with "The Caledonian Four" at the opening of the London Palladium in 1911. The group was formed at the suggestion of his old friend Harry Lauder. However, fashions were changing and Skinner's music became less appealing to the public.
In 1917 his portrait was painted by the artist J. Young Hunter. It was publicly presented to him at a ceremony at the Music Hall, Edinburgh. Some years later, his autobiography, 'My Life and Adventures', was serialized in the People's Journal.
In 1922 he bought his first house at 25 Victoria Street, Aberdeen, where he lived with his housekeeper, Mrs Lily Richards. Four years later, he was invited to take part in a fiddle competition in the United States. He went, but unhappy with the competition rules, refused to take part. He returned to Aberdeen, where he died the following year, on 17 March 1927.