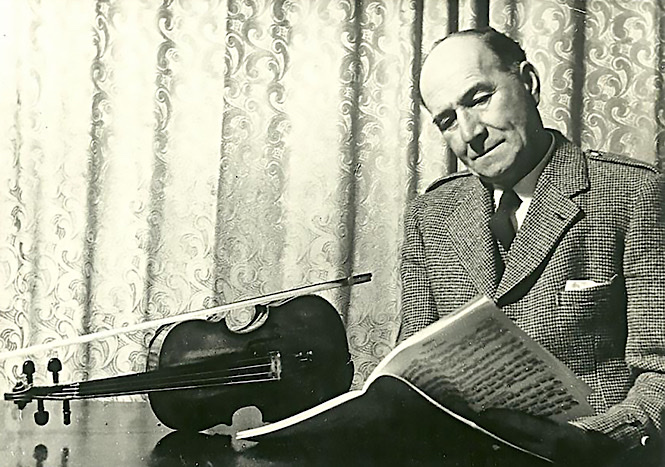 Hector MacAndrew was possibly the greatest exponent of the Scots fiddle tradition of his generation. It is impossible to meet a notable Scottish fiddler who doesn't hold Hector in the highest regard and in many cases his interpretation of some of our Scots fiddle classics are regarded as being the final word on the matter.
Hector was was born in Aberdeenshire in 1903 at a house in the grounds of Fyvie Cadtle where his father Peter was employed as head gardener and piper to Lord Leith. Hector's great-grandfather was employed at Fyvie Castle at a time when John Ban Mackenzie (1796-1864) was piper to the Marquis of Breadalbane. Hector said, the great piper taught his grand uncle who in turn taught his father piobaireachd. Hector loved the instrument but was never able to blow without getting nosebleeds!
Peter MacAndrew was also an able fiddle player as was his father before him who was taught by James McIntosh of Dunkeld, a pupil of Niel Gow. Hector, played fiddle from a very young age, absorbing his music from the Canntaireachd (aural) traditions of the area. His wonderful technique, and ornamentations were rooted in aural tradition and he always used them to good effect in the service of the music. Francis Collinson in Traditional and National Music of Scotland credits Hector MacAndrew as "the best exponent of the Gow tradition in his time". The playing of Hector MacAndrew gave breadth and expression to the dotted rhythms which characterise strathspeys by using the driven bow.
Fiddler Michael Welch in a personal memoir wrote, "It was James Hunter (then a BBC Producer in Aberdeen) who first encouraged me, early in 1970, to meet Hector MacAndrew. I had heard archive recordings of Hector's playing at the BBC and the School of Scottish Studies prior to this, and of course listened to his broadcasts but on sitting at his hearth and hearing him draw the bow I had no reason to look further. I remember with gratitude the hours spent there, during the last decade of his life, times where we covered many aspects of his native fiddle music, from croft to ballroom, from campaign to fo'c's'le…The music evolved over centuries. Hector's playing always seemed to have this sense of an historical vision behind it, as might be expected from a true 'traditional' performer – on any instrument, including the voice…"
A modest man who worked as a gardener like his father, Hector was also a noted fiddle teacher but had a tough reputation! Douglas Lawrence writes of their first meeting, "So I went along, very nervous, and there he was, not very tall, but with great presence. He told me to play. I did, then he said, 'Aye, that was fine, come back in a month'. That was all! So, my father would take me to him every month, on Saturdays….I studied with him for eleven years, the best experience of my musical life."
Apart from concerts and radio recitals, perhaps MacAndrew's most famous exploit was in 1974, when he introduced Yehudi Menuhin, an ardent admirer of Scottish fiddle music, to the intricacies of strathspey bowing at Blair Atholl, while making the television documentary, 'Mr Menuhin's Welcome to Blair Castle'. Its producer, James Hunter, recalls: "Menuhin just couldn't get a hold of the famous Scottish up-stroke, and he got more and more frustrated and eventually said to Hector, 'Oh, I cannot play The Marquis of Huntly's Farewell.' But Hector looked at him and said, 'Ah, but you can play the Beethoven (violin concerto) and I can't.'"
Menuhin later said: "When I met this man and heard him play, I knew I was in the presence of Scottish history." Classical composer Ronald Stevenson once described MacAndrew's bowing as "an inventory of ingenuities". Despite such plaudits, and the fact that he and Menuhin got on famously, MacAndrew was a modest man, and when Menuhin invited him to tour with him, he declined.
He gave many recitals and radio broadcasts and, in 2002 The MacAndrew Collection, a compilation of 100 of his compositions was published along with a CD played by the acclaimed North east fiddler Paul Anderson.
Hector MacAndrew died on Saturday 5th April, 1980. One of the most gifted and versatile true traditional masters of the fiddle that Scotland ever produced.