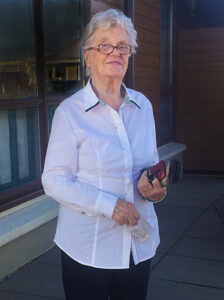 Catrìona Garbutt, was born in 1935 at 28 Balivanich, Benbecula in the Outer Hebrides. She is one of Benbecula, and Gaelic's great tradition bearers and she continues to be an influence today.

Catriona is a singer, piper, teacher and story teller whose songs and tunes go back across the centuries to the Fèinne and Ossianic eras. Gaelic singer and piper Julie Fowlis wrote that she "inspired and helped me over the years, while her late brother Calum Campbell taught me to play my first notes on the chanter".

Catriona grew up in a family full of pipers, going to sleep and waking up to the sound of the pipes nearly every day of her childhood. She learned to play the pipes in a very structured manner using the Logan's Tutor and the first tune she learnt was The 72nd's Farewell to Aberdeen.

In 2001, Catriona contributed her extensive knowledge in a broadcast for the School of Scottish Studies, Tobar an Dualchais/Kist o Riches, an online resource dedicated to the presentation and promotion of audio recordings of Scotland's cultural heritage.

Her brother, Calum Campbell was an accomplished piper and prolific composer and tutor. Tragically, Calum, his daughter Murdina, her husband Archie and their two children, Andrew and Hannah, died in the hurricane which swept the Hebrides in 2005. As a tribute, in 2015, Catriona along with Calum's son, Niall co-edited a book titled "Ceòl Chaluim" containing some 50 of his previously unpublished tunes.

Catriona continues to play the pipes today and at aged 85, in April 2021, she was filmed piping outside her Benbecula home in support of NHS key workers.