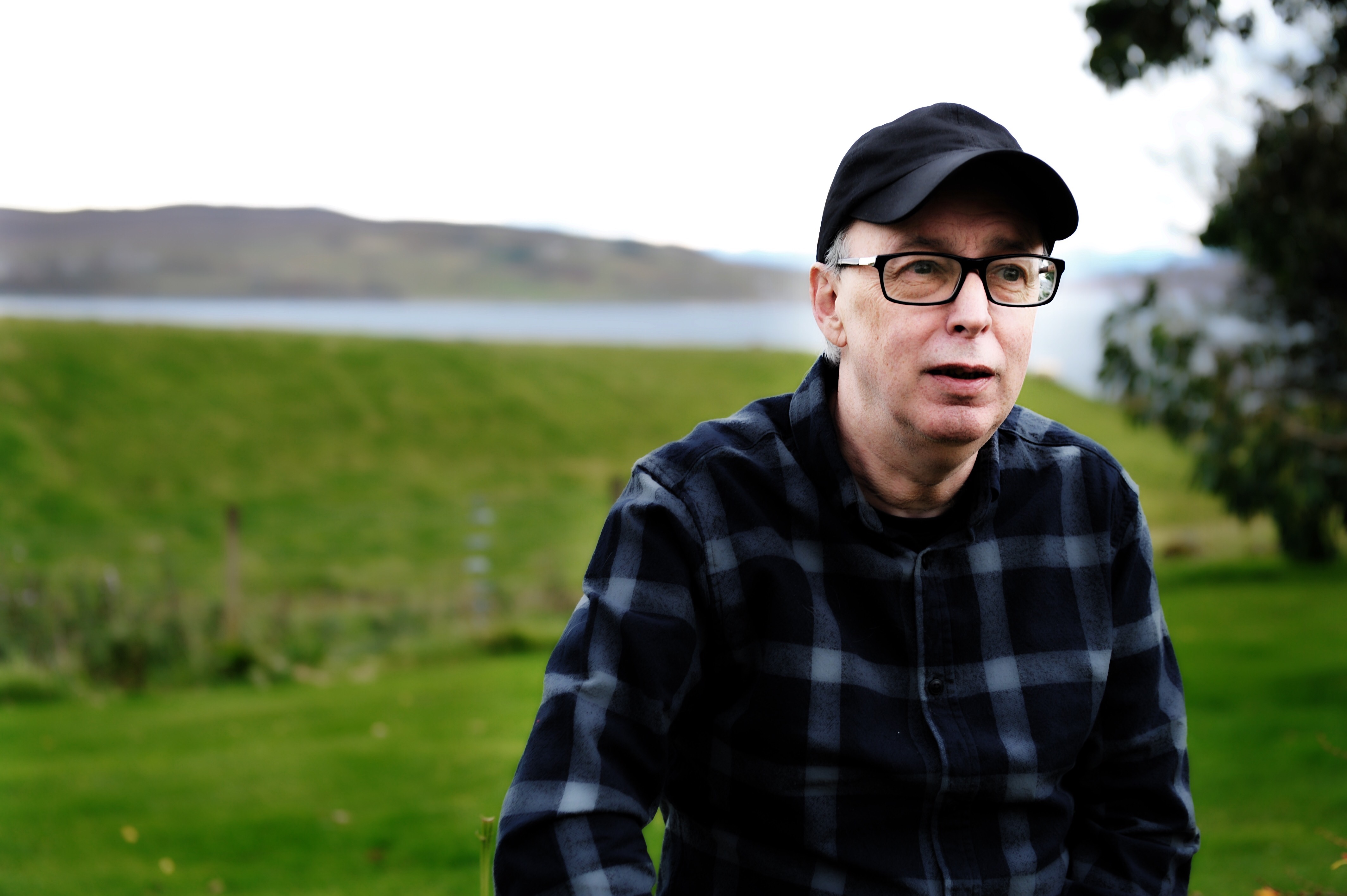 Blair Douglas is a musician and composer with an instantly recognisable style that speaks of soulfulness, humanity and compassion. That his music touches people is possibly best illustrated by the officers of the New York Police Department, on hearing the title track of Douglas's Angels from the Ashes album, inviting him to visit Ground Zero, which at the time was the exclusive domain of service workers and the families of those who died in the 9/11 attacks.
Blair was born on the island of Skye to a teacher father, whose family had moved to the island from the Borders in the early 1800's and a mother with North Uist connections who was well known for her involvement in Gaelic choirs. When Blair was fifteen his father took up a new post in Glasgow and the family moved to Cumbernauld, where shortly afterwards Blair took up the accordion.
At a Highland gathering one night Blair heard John Carmichael and Neil MacLeod and was so taken with their playing that they and other accordion players such as Will Starr became his heroes alongside Jimi Hendrix and The Band. With two friends from Skye, Calum and Rory MacDonald, Blair formed a band, initially to play at the North Uist & Bernera Association concert in Glasgow, and out of this grew the Runrig Dance Band whose early repertoire drew on Chuck Berry, Fleetwood Mac and Fairport Convention in attempts to keep village hall dance floors full.
As the MacDonald brothers began to develop the songwriting that would see Runrig develop an international following, Blair dropped out of the band to concentrate on his own music. He returned to play on the band's Recovery album in 1981 and then released his first solo album, Celtology in 1984, the precursor to a series of albums that have captured events and characters both local and international and conveyed a sense of place with the touch of a master.
Beneath the Beret, released in 1990, featured the dedications Kate Martin's Waltz, which quickly became popular with traditional musicians and has since passed into the tradition, and the heartfelt Solus m'Aigh, written for Blair's friend Fr. Colin MacInnes. Subsequent releases such as A Summer in Skye, the more song-based Stay Strong and Behind the Name have celebrated neighbours, friends and heroes including Robert Burns, singer-songwriter Michael Marra, guitarist Albert Lee and Nelson Mandala, drawing influences from the Scottish tradition, jazz, African music and Nashville.
Blair's fondness for American music, especially Cajun, has taken him to Louisiana where the television documentary Am Bràighe's Am Bayou found him revelling in his surroundings. Closer to home he premiered his Gaelic mass, An Aifreann Ghaidhlig in Inverness Cathedral as part of the Blas festival in 2009. He was also commissioned by Fèisean nan Gàidheal to write a song, Càirdeas, for the 2014 Year of Homecoming and the Commonwealth Games in Scotland, a piece that was taken up widely by fèisean participants and has enjoyed a life of its own.
As well as composing, for which he was recognised with the Composer of the Year award at the Scots Trad Music Awards in 2008, and playing in his own right, Blair has been a central figure in three of Gaeldom's most important bands, as a founding member of Mac-Talla and Cliar in addition to Runrig, and has passed on his accordion skills through his involvement with the National Centre of Excellence in Traditional Music in Plockton.