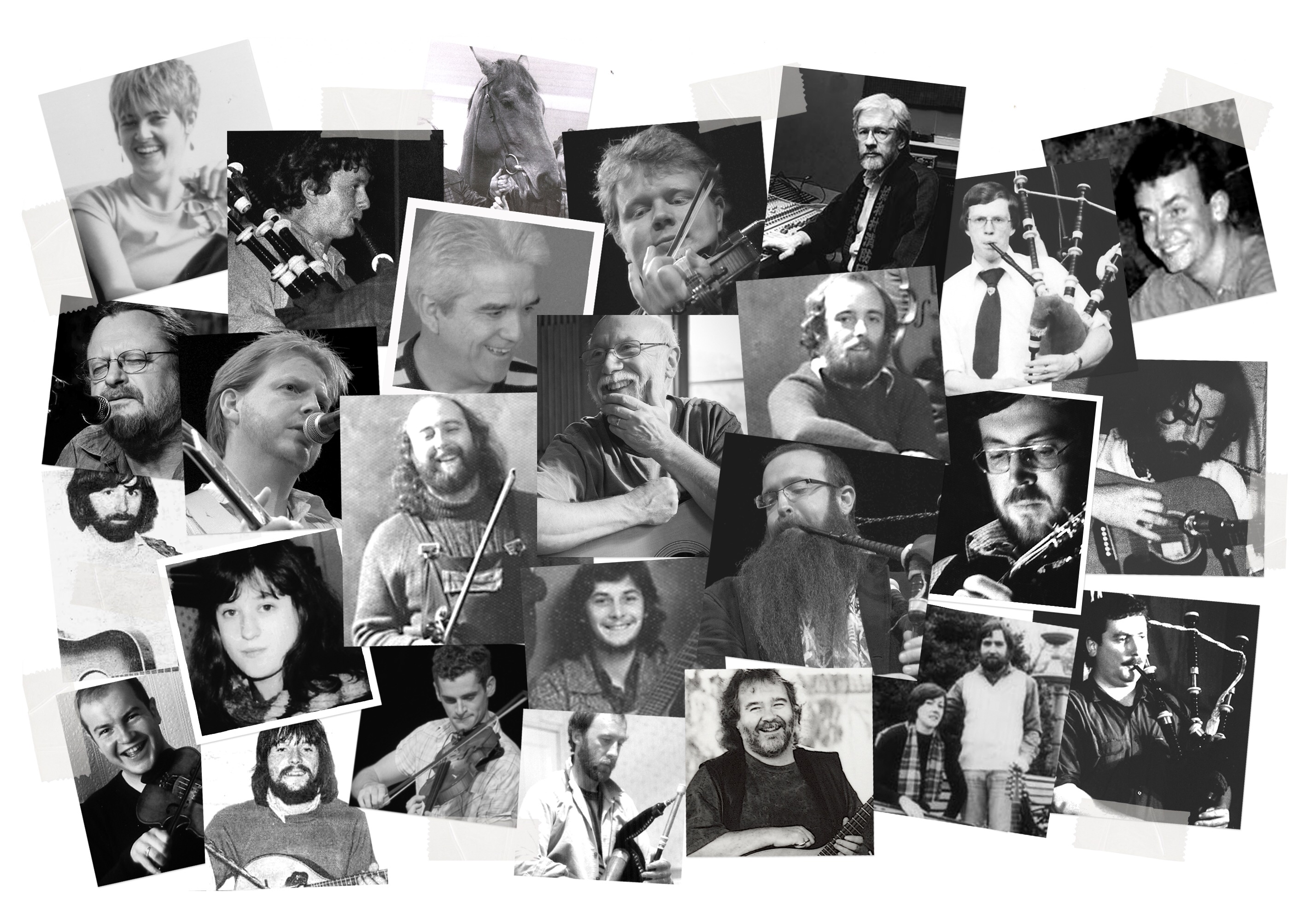 Over almost half a century at time of writing, Battlefield Band have established themselves as internationally acclaimed ambassadors for Scottish folk music. Musical innovators and seasoned troubadours, who were one of the first Scottish bands to embark on the global "Celtic music" circuit in the 1970s, the group have continually evolved over the decades, confirming their position as vital composers and interpreters at the forefront of a living tradition. Trailblazers in bringing keyboards and Highland pipes into their sound, they have never lost the fire of that bagpipe and fiddle front line.
During the years there have been many line-up changes and the band are remarkable for the smooth and organic way in which these changes have taken place. Their continued creativity, freshness and enthusiasm is perhaps due to the positive way they have viewed and used these transitions; with each musician bringing something new to the party. With some 30 albums under their collective belts, and thousands of concerts worldwide, the band have consistently demonstrated that the slogan they coined several decades ago, "Forward With Scotland's Past", still holds true.
Few groups, folk or otherwise, have received enthusiastic receptions in places as far apart as Anchorage and Beijing, or have required a police escort through "bandit country" in the mountains of Uzbekistan. And how many folk bands have had a racehorse named after them?
Their origins were rather more modest. In the late 1960s, Brian McNeill and fellow Strathclyde University student Jimmy Thomson started performing together under the moniker Harvest, sharing gigs with the likes of the Humblebums and Danny Kyle – tough acts to follow on stage. They took on a third member, Sandra Lang, and the trio played regularly in Glasgow's Iron Horse bar until one fateful Friday in 1969 when they discovered that their instruments had been locked up in Strathclyde University and the janitor had gone home. They lost the gig, Sandra left, and McNeill and Thomson were then joined by Eddie Morgan and keyboard player and singer Alan Reid, who would eventually become the bands longest-serving member, finally leaving in 2010.
The band re-named themselves after the Battlefield district of Glasgow where Brian was staying in a flat. The line-up morphed a few times over the next few years; Ricky Starrs playing with the group and making an early recording in Brittany with them after the departure of Morgan and Thomson. Their first generally available album was simply titled Battlefield Band, released on Topic Records in 1977, with the quartet of MacNeill, Reid, John Gahagan on whistles and cittern player Jamie McMenemy, pictured on the cover clustered around a pedal organ which became an element of the early group's sound.
Robin Morton, their manager and producer to this day, remembers first hearing the band at Durham Folk Festival in 1976: "I thought the music was great, really interesting. They'd already made a record in Brittany and I suggested that if they were interested in doing an album I could produce it and sell it to Topic. That turned into the eponymous album and was the start of a long relationship with the band."
Another Breton LP followed before John Gahagan left, to be replaced by Irish singer and guitarist Pat Kilbride. Kilbride played on another release for Topic, 1978's At The Front with Morton now in the producers chair for the long term.
As the old harmonium was reinforced by electronic keyboards, a significant release was 1979's Stand Easy, with MacNeill and Reid joined by their first full-time piper, Duncan MacGillivray, as well as by singer Jenny Clark. An EP around the same time saw Sylvia Barnes come briefly aboard, and Sylvia's husband Jim (a sound engineer for the band at the time) also featured on that recording.
Singer, guitarist and Northumbrian piper Ged Foley joined them for Home Is Where the Van Is, their seminal first album for Morton's Temple Records label which would become their permanent stable, and which further consolidated the band powerful sound. It was revisited and performed live as a "classic album" at the Celtic Connections festival in 2009.
The band's songwriting talents were also coming fully into play, with Home Is Where the Van Is featuring MacNeill's fine Lads o' the Fair, one of many songs that he and Alan would write, often dealing with Scottish historical topics such as social history, injustice and emigration.
As Alan Reid explained in an interview in 2008, "Our basic line-up, with that distinctive 'Battlefield' sound ,was established around 1980 when we incorporated bagpipes into the band. Since then fiddle, pipes, keyboards, guitar and vocals has been the bedrock, with other instruments providing a variant of textures.
"We used a drum machine in the Eighties and flirted with folk renditions of rock music like Bad Moon Rising, but there came a point where we realised that our strengths lay in remaining a traditional band and in writing traditional style material. Playing traditional music is what we are good at and what we stick at."
They broadened their audiences through TV and radio, in 1984 presenting three television programs for BBC Scotland on which they hosted such guests as Paul Brady, Mike Whellans and, much to their delight, Van Morrison. The following year they created the soundtrack for a TV series about the National Trust for Scotland, resulting in two instrumental albums entitled Music In Trust.
As awards, recordings and increasingly lengthy tours continued (accompanied by soundman Moray "Mo" Munro) so did the personnel changes. Dougie Pincock, from the Glasgow band Kentigern, replaced MacGillivray as piper in 1984 and singer-guitarist Alistair Russell joined up for a 13-year stint . As the band's fame spread during the Eighties, they received the unexpected compliment of a racehorse being named after the band by a leading trainer, Peter Calver. "We went to meet the horse, posed for a few press shots and won a few bob on him for the first couple of races," Robin recalls. "After that his form went downhill a bit and they changed his name again!"
The band's form stayed the course though. They established their own festival, the legendary "Highland Circus" and became favourites at many other European festivals. As Dougie Pincock puts it: "Those one-off sets where you had a chance to pack in all your best numbers were always exciting, especially when we were somewhere in the middle of the bill. Nobody expected a band in that position to blow the roof off, which we frequently did. In particular, I'll never forget Cropredy in 1984, and Broadford and Tønder, both in 1986. Nobody involved would be childish enough to look on these festivals as competitions. But those ones – we won!"
As well as regularly filling venues in North America, Battlefield Band found themselves venturing rather more off the beaten track; to China, Hong Kong, Syria, India and Sri Lanka. Particularly memorable was their 2003 trip to the Central Asian republic of Uzbekistan, where they acquired that aforementioned police escort. A reciprocal joint tour was arranged in the UK with four musicians the band had met in Uzbekistan and as Mike Katz, recalls "it was an amazing experience; great people and truly fine musicians. We had very little language in common but the music made a connection between us, and that tour is a highlight of my time with the band."
More foreign memories include Alan's recollection of "Chinese students enthusiastically singing the chorus of Nancy's Whiskey when we performed at Beijing University" and "opening for Mike Oldfield on a three week tour of Germany and bringing the house down every night!". Alistair Russell has his own recollections, of the band attending a riotous Halloween party in Valdez, where the Alaskan oil pipeline terminates, "walking back to the van at sunrise and driving to the next show at 10mph on black ice, past a group of about fifty bald eagles sunning themselves at the side of the road.".
The Nineties saw Brian leave to pursue a solo career, eventually becoming head of Scottish music at the RSAMD (now the Royal Conservatoire of Scotland) for seven years, and also pursuing a dual career as crime and mystery fiction author with several novels to his name. Dougie Pincock also pursued a career in teaching, and today is director of the National Centre of Excellence in Traditional Music at Plockton.
The pipe and fiddle front line was replaced by what would be a long-running pairing of Iain MacDonald, one of the three piping MacDonald brothers of Glenuig, and a teenage fiddle talent by the name of John McCusker, who hopped into the Battlefield tour van straight out of school.
By the release of 1998's Rain, Hail or Shine, MacDonald was replaced by the mighty Los Angeles-born piper Mike Katz while the band also took on board the acclaimed Scots singer-songwriter Davy Steele. Sadly Davy was with the band a relatively short time before being diagnosed with cancer shortly after their 1999 release, Leaving Friday Harbour, passing away in 2001 at the tragically early age of 52.
Karine Polwart stepped in for a year, before going on to establish her own credentials as a singer-songwriter of note, while McCusker would eventually leave to pursue a solo career as a player and producer which would see him touring and recording with the likes of Mark Knopfler and Steve Earle.
Next fiddler in the Batties' roster was another teenage fiddle prodigy; Lewis man Alasdair White, while Pat Kilbride re-joined the band after a 23-year absence. In 2005 he was replaced by Derry-born singer-songwriter Sean O'Donnell, who remains in the present line-up. Alan Reid finally decided to leave in 2010, recalling that in 1975 he had decided to put his embryonic teaching career on hold while he went on the road with the band he'd co-founded in 1969. He didn't retire from music, forming a duo with Dutch singer-guitarist Rob Van Sante who had been on the road with band as a soundman for some years.
Following Alan's departure, young multi-instrumentalist Ewen Henderson passed through the ranks, but the band plays on as a trio with Katz, White and O'Donnell. For proof that they are still firing very much on all four cylinders after almost five decades, listen to their current album, Beg & Borrow, or the previous release, Room Enough for All, voted Album of the Year at the 2013 Scots Trad Music Awards. They had also scooped the "Scottish Folk Band of the Year" category two years previously and the Best Live Act at the inaugural awards in 2003.
As their long-standing manager, Robin Morton, puts it: "People say, 'Oh, the Battlefield Band's changed its line-up again', but it happens in an organic way and there's continuity to the music although it's always evolving. So many great musicians have been a part of the group over the years and each one was a highlight to me. They all brought something new and anyone who left took something positive with them from the experience".