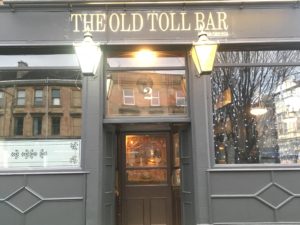 The Distil Showcase will return again to the Tolbooth in Stirling on Friday 29th March 2019 at 8pm. The concert showcases the new and exciting music of traditional music composers. We are very lucky to have Mr McFall's Chamber as our resident house band once again. You can buy tickets for this fab night of music here!
Robbie Greig has written music called The Old Toll. Here's some information about it.
The Old Toll Bar has stood at Paisley Toll in Kinning Park, Glasgow since 1874, although it has had a turbulent history of closures and re-openings. At the turn of the century, many poor West Highlanders resided in the area, and it became known as the "Gaelic Ghetto". Many of these people and other residents would have frequented the bar. The piece I've written explores the conversations, comraderie, craic, singing and fighting that would have taken place at that time and over the years. It's broken into smaller sections, each section representing a new episode in the bar's history with a recurring theme throughout, the theme representing its customers and their similarities throughout history.
My own personal connection to The Old Toll is that it's currently my local, and that it would most likely have been frequented by my grandfather at some point in his life, he having lived in Cessnock for a period of time.
You can read about all the composers here.