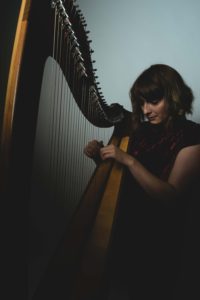 The Distil Showcase will return again to the Tolbooth in Stirling on Friday 29th March 2019 at 8pm. The concert showcases the new and exciting music of traditional music composers. We are very lucky to have Mr McFall's Chamber as our resident house band once again. You can buy tickets for this fab night of music here!
Becca Skeoch has written music called Pieces. Here's some information about it.
'Pieces' has come from my interest and fondness of how old memories evolve and form when reminiscing with family and friends. With this theme in mind I felt it only appropriate to write for Tannara. After working with the musicians in this band over the last few years we've shared some hilarious and often bizarre experiences. Like most, we often reflect on these experiences, and I'm often amused at how we pull our hazy memories together, piece by piece in order to remember what actually happened.
You can read about all the composers here.