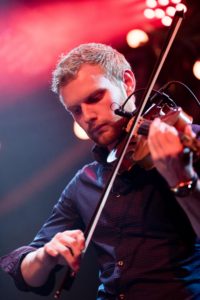 The Distil Showcase will return again to the Tolbooth in Stirling on Friday 31st March 2017 at 8pm. The concert showcases the new and exciting music of traditional music composers. We are very lucky to have Mr McFall's Chamber as our resident house band once again. You can buy tickets for this fab night of music here!
Jack Smedley has written music called Coruscate. Here's some information about it.
Coruscate is an amalgamation of a number of small musical ideas that I have looked to develop for some time. The opening theme was inspired by a scene I encountered in Austria in 2016. I was on tour at the time and went for a short walk after a typically long drive and found myself in an area of dense woodland. At the time the sun was very low in the sky, creating intense beams of broken light through the trees and the surrounding area was almost completely silent. This scene inspired the opening theme for Coruscate, which recurs at points throughout the piece and directly influences the two main melodic sections.
You can read about all the composers here.