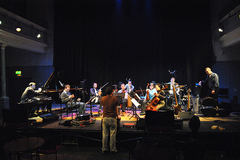 On Tuesday 11th March in North Edinburgh Arts, Edinburgh – 10am we are offering a chance to talk to McFall's Chamber about the various sounds / techniques you can get from a string ensemble. This is an amazing opportunity to learn something new and try new ideas in your work that you might not have thought off.
Reserve your ticket below.
Mr McFall's Chamber was formed with the aim to create new audiences, new music and new directions in music. The group has a policy of mixing widely different styles in the same programme – anything from progressive rock, tango, cartoon classics, folk, jazz, early music to contemporary classical – to introduce audiences to music they otherwise might not encounter. Running through the group's history and planning for the future is a genuine desire to broaden the appeal of the (often lesser-known) music that it plays. The group is also dedicated to supporting the work of UK composers and regularly commissions new works, as well as generating new music from within the ranks of the ensemble. Read more >>> http://www.mcfalls.co.uk/
Thanks to Creative Scotland for helping to make this project happen.