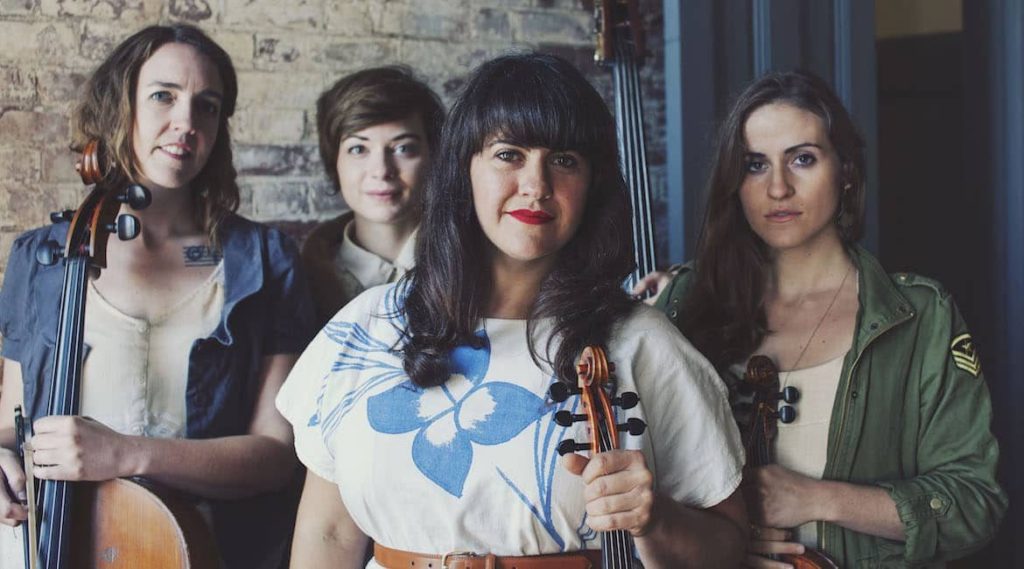 I gid tae the Glesca Royal Concert Ha', on I' first o' February fan Laura Cortese and The Dance Cards were playin in support o' Blazin Fiddles an their tweintieth birthday. The fouer lassies hail fae a' the airts an' pairts o' the US. Laura Cortese, and Jeni Magana fae California, Jenna Moynihan living in Boston and Valerie Thomson fae Kansas. Since meetin' the lassies fan we were deein the same gig thigither on Hoy at Orkney Folk Festival, av follaed their continued success an' hae enjoyed their new album tae nae end -it's literally been on I car on repeat since October, sae I wis giy speirin forrit tae this gig.
These lassies needed nae introduction, an rippit inti their first sang wi' their braw unfaltering fouer pairt hamonies. The Low Hum is aff o' the bands new album thit wis released in October o' last twalmont.
They carried on wi' a sang "California Calling", I' title track o' the album with a giy fitting pizzicato intro leading tae thon mesmerising harmonies an' fiddle brak doons. "Three Little Words" opened wi' an unaccompanied refrain, again wi' the lassies singin' in braw harmony. Sic a catchy melody wi' fiddle interludes throughout. The girls vices are crystal clear with diction tae match.
"If you want this to last, don't make me say it well
When you look back, will you want the answer still
Those three little words"
They carried on wi "Pace Myself" – a sang wi' the lovely sentiment oo "believing in yourself." It his a rockin intro o' footstampin an' clappin. Fit amazes me aboot these lassies is jist foo transferable the album is tae the stage. It's heard bit by bit, jist the same, if nae better. Sam amazin harmonies fae Jenna Moynihan.
Next, the lassies got abdy goin an clappin alang wi' an American fiddle tune. These quines are ridy tae mak a fair soond an' produce a giy storm. The band jist at hame wi' instrumental music as they are wi sangs – a dynamic and versatile outfit, fa were really jist haen a darn guid time onstage. Onybdy cuid see that these quines jist absoloutely love fit theyre deein – an they love the music ina.
The quines are a' multi-instrumentalists, bit Laura's fiddle-singin' is jist samthin' else – skills only comparable to genius witchcraft! Laura, in true bransdwomen fashion introduced the quines ane by ane tae rapturous applause. I' frontwimman Laura, hid a fiddle style thit did nithin bit compliment her equaly as strang feisty vocals.
Laura's got a giy braw attitude an' some crackin' stage presence. She recalled bein 19 an' watchin the String Sisters at the Glesca Royal Concert Hall an bein inspired. An' I wander jist foo mony 19 year auls Laura inspired that night.
"Rhodedendron" and it's georgous harmonies jist perplexed me an left me in awe. It served as a iy fittin natural Segway intae "Someday". The lassies hae an amazin vocal range, all whilst playin their respective instruments, bass, fiddles, cello an' banjo. "Heel to Toe" offered some light, upbeat call and response between Laura an' the girls.
Fir the last sang, the lassies asked fir the hoose lichts tae be dimmed an' steppit oot infront o' their microphones an' unplugged. I wad say that this wis the maist intimate thing I had seen in a giy lang time. They sung a sang fae Laura's 2013 album "Into the Dark".
The entire room was focused on these 4 lassies, lit only by wee spotlights and amplified only b' ambient microphones, if that. This wis pretty darn special – their voices soared tae the furthest stretch o' the concert haa. Laura's vice is super distinctive an her songwriting is jist truly relatable an' transcends generations. This wis probably the highlight o' the festival fir me, jist this wan intimate sang.
Laura Cortese an' the Dance Card his been steadily gainin mair and mair o a followin' here in the UK an' hae been touring up and doon the kintra fae Shetland tae London continuiously oer the past twa or three year. An' fir guid reason, their music is raw, honest and genuine. It his innovation, bit they remain sympathetic tae their roots. I really jist wish that the lassies hid mair stage time – they lichted up the hale concert haa' and filled it with pure unadulterated beauty. If yer gan tae listen ti onythin this week, or even this month. Listen tae this band.