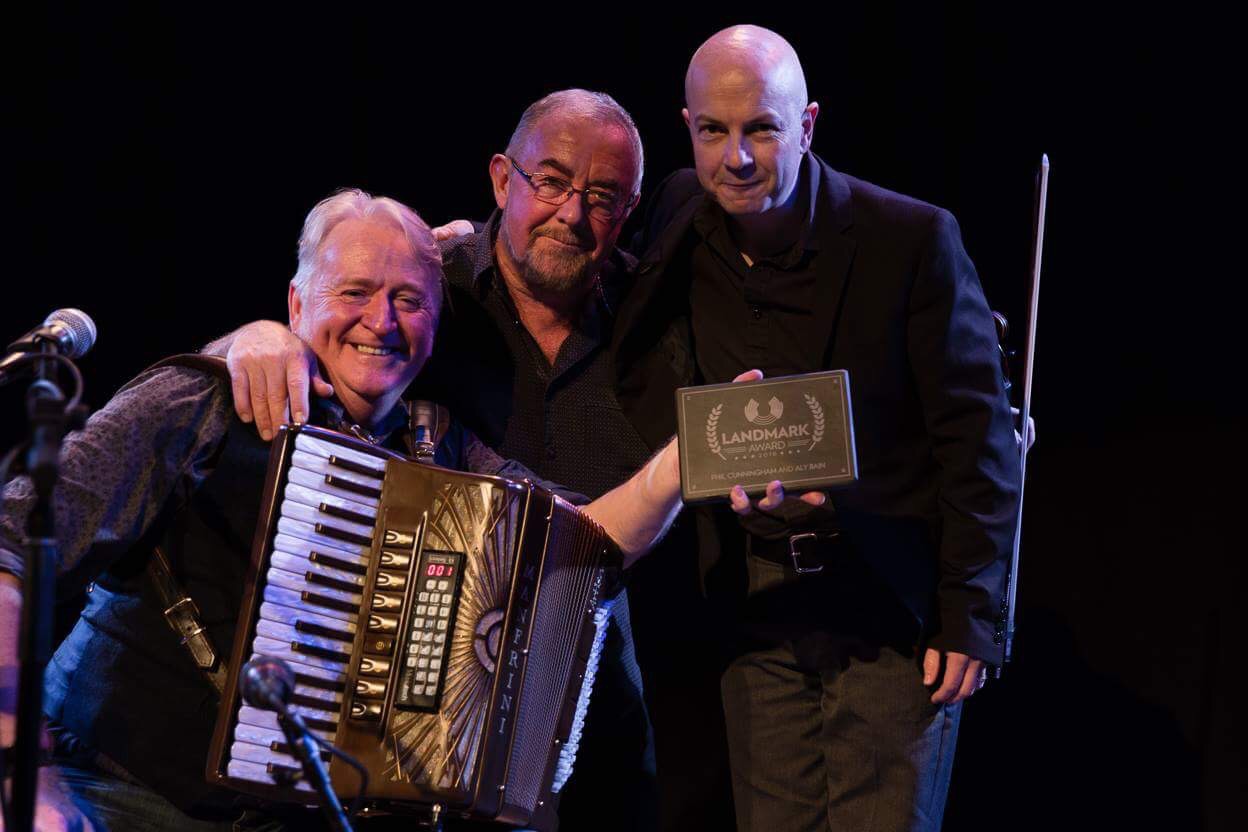 Hands Up for Trad were very pleased to present Phil Cunningham and Aly Bain with our Landmark Award celebrating 30 years as a touring act. Both Phil and Aly have worked tirelessly for Scottish music and have promoted our music successively across the world with various band (Boys of the Lough, Silly Wizard) for many years. I don't know what we would do without them. On the night at the Queen's Hall, Edinburgh, top musician John McCusker presented the award on behalf of Hands Up for Trad to a sell out crowd. After the presentation John performed a set with Phil and Aly which the crowd loved.
When travelling difficulties left Aly Bain without an accompanist for his performance at the Queen Elizabeth Hall in London in 1986, the great Shetland fiddler wasn't to know that he was about to enter a partnership that endures to this day and has become one of the outstanding successes in traditional music, not just in Scotland but across the world.
Phil Cunningham happened to be on the same bill that evening, playing in an accordion duo with Irish master Mairtin O Connor, and hearing of Aly's predicament he volunteered to play with him. For reasons he can no longer remember, Phil sat down at the piano, rather than taking his accordion onstage, and he and Aly played for half an hour unscripted.
The following evening Aly invited Phil out to dinner to thank him but also to discuss a new venture. A television production company, Pelicula, had approached Aly with a view to making a series of programmes called Aly Bain and Friends. Would Phil like to join him on the pilot for the series?
Read more!.
https://projects.handsupfortrad.scot/landmark/aly-bain-and-phil-cunningham-1986-2016-30-years-performing-together/