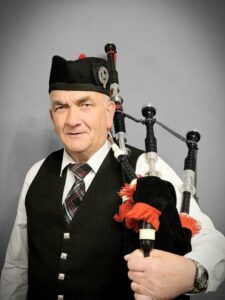 Congratulations to Tutor who has been nominated in Music Tutor of the Year sponsored by Creative Scotland Youth Music Initiative in the MG ALBA Scots Trad Music Awards 2023. Vote for Tutor now!. It's going to be another great night at the MG ALBA Scots Trad Music Awards on Saturday 2nd December in Dundee's Caird Hall. Why not join us for a brilliant night of music and awards. Buy a ticket here.
We asked Donald Ban the following questions.
Tell us about yourself
I was born and raised in Uist in the Outer Hebrides and began piping at the age of 13. I later moved to Glasgow where I was tutored by the famous Pipe Major Donald MacLeod. Upon returning home in 1984, I formed a junior piping club which was run voluntarily for 10 years before being appointed Piping tutor by the local council for the Uist and Barra Schools. It is extremely rewarding to see over 180 pupils currently receiving tuition through the medium of Gaelic and English. I was also privileged hold the position of Pipe Major of the Uist Pipe Band for many years before handing the role over to one of my ex pupils.
Why are you involved in Scottish music?
Scottish music has, and forever will be a huge part of my life.
Any particular career highlights?
In 2001, I was asked by the local council to take a pipe band to South Korea to participate in the Festival of Island culture. This was an incredible experience.
I had the marvellous opportunity to take the Sgoil Lionacleit Pipe Band from the Outer Hebrides to New York City in 2018 where we attended Tartan Day Parade. The sound of our pipes and drums marching down 6th Avenue will never be forgotten.
Seeing the band I have mentored over the years succeed in competitions such as the World Pipe Band Championships and the Scottish Schools Pipe band Trust. The Trust has been invaluable in ensuring the sustainment of Piping and Drumming in Scotland.
It has been extremely rewarding for me to see many of my ex pupils further their own careers in Scottish Music – many of whom have now made a name for themselves.
What are your plans for the future?
To continue to inspire, develop, and to provide opportunities for the young people of our Islands, and to ensure the future of our culture and traditional music for generations to come. This would also not be possible without the continued support of our Local Council, Parents and the generosity of our community.
Tutor Social Media
Website:
Facebook: @
Twitter: @
Instagram: @
YouTube: @
TikTok: @
The 2023 MG ALBA Scots Trad Music Awards are on the 2nd December 2023! You will be able to watch it live in person (buy a ticket here),Watch it live in the UK at 9pm (GMT) on BBC ALBA and and around the world here. Bands performing on Saturday 2nd December include Peatbog Faeries, Mànran, Karine Polwart and Dave Milligan, Duncan Chisholm Band, Joy Dunlop Band, Aberdeen SC&T Youth and more!
If you would like to support Hands Up for Trad in their work with Scottish trad music and musicians why not become a friend of Hands Up for Trad. In addition to our high profile events like the Scots Trad Music Awards, we also deliver a less well known, education programme for young people from 8yrs right through to young adults at the start of their careers. Read more here.