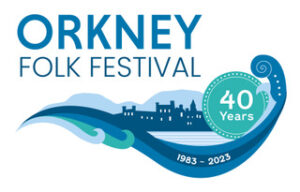 Congratulations to Orkney Folk Festival who has been nominated in Event of the Year sponsored by VisitScotland in the MG ALBA Scots Trad Music Awards 2023. Vote for Orkney Folk Festival now!. It's going to be another great night at the MG ALBA Scots Trad Music Awards on Saturday 2nd December in Dundee's Caird Hall. Why not join us for a brilliant night of music and awards. Buy a ticket here.
We asked Craig of Orkney Folk Festival the following questions.
Tell us about yourself
From small beginnings, the Orkney Folk Festival has grown to become one of the most prolific and special in the folk music scene.
Established in 1982, and with the first event in 1983, the festival is entirely volunteer run. This is one of the principles upon which it was founded 40 years ago, and is central to the festival's feel and welcome – for both artists and audiences. More than a hundred people help stage events over the festival weekend, and a team of around a dozen dedicated souls work year-round to bring the festival together each May.
It's hard to believe now, but in the early eighties both tourism and traditional music were going through low periods in Orkney. There was a need to increase visitor numbers to the islands by extending the summer season earlier, making the industry more sustainable. At the same time, folk and traditional music was seen as unfashionable – particularly amongst the younger generations.
Drawing together these threads, the then Orkney Tourist Board, alongside BBC Radio Orkney, brought together the first Orkney Folk Festival committee, who staged the first festival at the end of May in 1983. The festival has since established itself as an unmissable event in both the Orkney and Scottish folk calendars, and has contributed enormously to the outward promotion of Orcadian folk music – through project such as 'The Gathering', but also simply through fuelling and furthering interest amongst many now well known local players.
One of the most important characteristics of the first festival that stands true today is the balance of visiting and local artists. Whilst the festival has become a sought-after stage amongst artists worldwide, it is the local, Orcadian acts that make the festival what it is and keep the crowds coming.
Many folk enjoy the festival, and the atmosphere it creates in and around Stromness and the isles, so much that they return year after year to experience the fine mixture of music and hospitality. Many are musicians, storytellers or dancers themselves, however there are scores of others who simply come to enjoy the craic.
The last few years have been particularly challenging for live music and festivals, but the enforced break due to the global pandemic also enabled the festival team to take a breather, and consider how we ensure the festival can continue to operate sustainably into the future. Returning with gusto in 2022 we were hugely reassured by the reception from all our supporters, and saw another record-breaking year of ticket sales. This was well and truly surpassed once again in 2023, with our 40th festival recording our highest ever sales, with over 8,500 attending in person and a further few hundred watching online.
In this, our 40th year, we want to thank everyone for their continued support, as we aspire to continue to provide a world-class folk festival based in Stromness enjoyed by audiences old and new.
We must thank funding bodies, sponsors, local businesses, community groups, the musicians, sound, lighting and stage crews, our charity trustees and everyone in the amazing festival team.
Why are you involved in Scottish music?
The festival was established as both a means to increase tourism to Orkney, and an interest in folk music, particularly amongst younger generations – both of which were going through fairly lean periods in the early 1980s.
Some 40 years later, the festival is amongst Stromness and the islands' busiest weekends, and weekly accordion and fiddle lessons are packed out. The sense of place, and pride in our local artists, is hopefully evident throughout our four-day programme. We welcome artists from throughout Scotland and around the world to Orkney, ensuring they rub shoulders with our homegrown talent so that it too can travel far and wide.
Not only have initiatives like 'The Gathering' (a cornerstone of our programme for the last 12 years, with an all-Orkney house band and guests welcoming guests from throughout our programme) put Orkney music centre stage at home, but the festival has also become a vehicle through which we can promote Orcadian artists further afield. The Gathering has toured to Celtic Connections twice, the Scots Fiddle Festival, and in February 2024 will head to London amongst a heady cast of Orkney talent for a mini Orkney Folk Festival weekend as part of Scotland Unwrapped at Kings Place. Whilst excited to be spreading the good word amongst such a prestigious programme, we dearly hope just some of the fine folks in the crowd come and visit us at home so that we can keep welcoming audiences to the festival. We're very proud of home, and are rarely happier than when we get to show the islands, our culture and all they have to offer to folk that have taken the time to come and see us.
Any particular career highlights?
Every festival is a highlight, particularly after the last few years, and with countless, rapidly-changing hurdles needing cleared.
Being unable to meet in person in 2020 and 2021 was devastating (not just for our festival community, but the local economy too), however being able to expand our reach to a worldwide audience online, particularly with an all-new online edition in 2021, brought many benefits and highlight just how much the festival means to so many people. Keeping that fire burning in the face of adversity, and maintaining the festival community throughout the pandemic was both hugely challenging and rewarding.
We returned in-person in 2022 with record-breaking sales – which we well and truly then smashed in 2023, as we welcomed over 8,500 in-person attendees to the 40th festival, alongside retaining an online audience amongst those who couldn't be in Orkney.
The cherry on top of our 40th birthday cake was undoubtedly the return of Capercaillie (last seen at the festival in 1986!), who reprised their orchestral suite with a local orchestra comprised of 50% students from the Orkney Schools Instrumental Service – with just one day's combined rehearsal! Seeing the connection between such world-renowned legends of Scotland's music scene, and our local musicians and school students was something else, an absolute triumph and truly an unforgettable evening.
What are your plans for the future?
Keeping the festival going for another 40 years and more!
I dread to think of the number of hours that go into creating the festival, and whilst we have enjoyed a few years of great ticket sales we're well aware we can't keep on breaking records without breaking the team in turn! Sustainability is very important, and none more so than of the event itself.
The festival's impact upon the local community – our cultural heritage, our economy, the value placed on the arts, and our outward promotion of Orkney as both a destination and producer of world-class music – is vast, but we can't rest on laurels. In our 40th anniversary, we aimed to have a programme that had one eye on the last four decades and how far the festival has come, with the other firmly on where we're headed and what's coming round the corner. That remains true as we approach our 41st, ensuring the festival is as relevant and warmly received by audiences in the years ahead, so that it can continue to benefit Stromness and Orkney isles that have so warmly thrown open the doors for visiting musicians and crowds alike over the last four decades.
Orkney Folk Festival Social Media
Website: http://www.orkneyfolkfestival.com
Facebook: @orkneyfolkfestival
Twitter: @orkneyfolkfest
Instagram: @orkneyfolkfest
YouTube: @orkneyfolkfest
The 2023 MG ALBA Scots Trad Music Awards are on the 2nd December 2023! You will be able to watch it live in person (buy a ticket here),Watch it live in the UK at 9pm (GMT) on BBC ALBA and and around the world here. Bands performing on Saturday 2nd December include Peatbog Faeries, Mànran, Karine Polwart and Dave Milligan, Duncan Chisholm Band, Joy Dunlop Band, Aberdeen SC&T Youth and more!
If you would like to support Hands Up for Trad in their work with Scottish trad music and musicians why not become a friend of Hands Up for Trad. In addition to our high profile events like the Scots Trad Music Awards, we also deliver a less well known, education programme for young people from 8yrs right through to young adults at the start of their careers. Read more here.