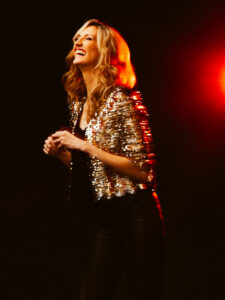 Congratulations to Joy Dunlop who has been nominated in Gaelic Singer of the Year sponsored by Highland Society of London in the MG ALBA Scots Trad Music Awards 2023. Vote for Joy Dunlop now!. It's going to be another great night at the MG ALBA Scots Trad Music Awards on Saturday 2nd December in Dundee's Caird Hall. Why not join us for a brilliant night of music and awards. Buy a ticket here.
We asked Joy of Joy Dunlop the following questions.
Tell us about yourself
With an exquisitely expressive voice and a deep connection to the traditions of the Scottish Highlands, Joy Dunlop is "long established as one of the finest Gaelic singers on the current circuit." (Songlines) Her singing career is the result of a life–long fascination with Scotland's traditional music and has led her all over the world; from performing at major Celtic festivals, to touring the UK, Europe, Canada, USA, China, Japan and New Zealand.
Through her singing, she showcases Gaelic music and song in a contemporary way that always remains true to its roots. 5 times nominated as Gaelic Singer of the Year, she has also won both the coveted Royal National Mòd Gold Medal and the Oban Times Gold Medal and is the only person to be crowned both Traditional Singer of the Year & Traditional Dance Champion at the Pan Celtic Festival. She's released three highly acclaimed solo albums, Caoir, Dùsgadh and Faileasan and also, Dithis; a duo album with her brother Andrew. Joy is also the driving force between 'Gaelic/Gaeilge supergroup', LAS and has featured on a range of collaborative albums.
Why are you involved in Scottish music?
I was born and raised in the small village of Connel in Argyll, on the west coast of Scotland – an area that's steeped in traditional music and Gaelic heritage. I have always loved to sing and dance and I was unbelievably lucky to have been encouraged to keep singing over the years and I was given many performing opportunities for which, I'm truly grateful.
My affinity with the Gaelic language and culture is just as strong now as it was then, and there's nothing that moves me more than the genuine emotions of Gaelic songs. I feel so privileged that I can make my living from performing and teaching Gaelic music but I know that even if this wasn't my job, I'd still be finding ways to learn and promote this beautiful repertoire. Gaelic singing truly is good for the soul!
Any particular career highlights?
2023 has given me some wonderful experiences – I released my new album 'Caoir' back in April and have loved introducing this new sound to audiences far and wide; from my launch gig here in Glasgow to a fabulous tour of China! The response to the music has been great and I'm really enjoying performing as part of larger band, with some of my favourite musicians. Singing a cappella in the glorious setting of St Giles Cathedral for the Honours of Scotland ceremony was also a special experience – the natural acoustics a re just glorious.
More generally, it's hard to top being Scotland's first ever Eurovision representation – singing Gaelic songs live to an audience of 5 million people, in 10 countries across Europe was just unbelievable; especially to a Eurovision super-fan like myself! And of course, winning the Royal National Mòd Gold Medal will always be one of my biggest career highlights and being the first (and only) person ever to win both the Traditional Singer of the Year and the Traditional Dancer of the Year at the Pan Celtic Festival was also very special.
What are your plans for the future?
I'm excited to introduce the songs Caoir from Caoir to even more people – there ain't no party like a Gaelic party! I love performing both at home and internationally and always try to reach as many new places as possible. My mantra is, "have Gaelic, will travel" so who knows where I'll land!
Other than that, I just want to keep singing as much as possible and be involved in as many wonderful projects as I can. More is definitely more 🙂
Joy Dunlop Social Media
Website: https://www.joydunlop.com
Facebook: @joydunlopofficial
Twitter: @joydunlop
Instagram: @joydunlop
YouTube: @joydunlopofficial
TikTok: @joydunlop
The 2023 MG ALBA Scots Trad Music Awards are on the 2nd December 2023! You will be able to watch it live in person (buy a ticket here),Watch it live in the UK at 9pm (GMT) on BBC ALBA and and around the world here. Bands performing on Saturday 2nd December include Peatbog Faeries, Mànran, Karine Polwart and Dave Milligan, Duncan Chisholm Band, Joy Dunlop Band, Aberdeen SC&T Youth and more!
If you would like to support Hands Up for Trad in their work with Scottish trad music and musicians why not become a friend of Hands Up for Trad. In addition to our high profile events like the Scots Trad Music Awards, we also deliver a less well known, education programme for young people from 8yrs right through to young adults at the start of their careers. Read more here.