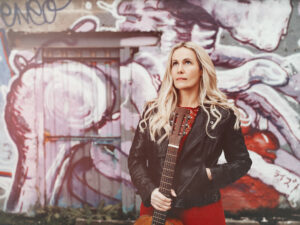 Congratulations to Heidi Talbot who has been nominated in Composer of the Year sponsored by PRS for Music in the MG ALBA Scots Trad Music Awards 2023. Vote for Heidi Talbot now!. It's going to be another great night at the MG ALBA Scots Trad Music Awards on Saturday 2nd December in Dundee's Caird Hall. Why not join us for a brilliant night of music and awards. Buy a ticket here.
We asked Heidi of Heidi Talbot the following questions.
Tell us about yourself
Heidi Talbot was born in Kill Village, Co. Kildare, Ireland became a folk star in the USA as a member of the Irish
American band Cherish the Ladies, and now lives in Edinburgh, Scotland. With a background like that, it's hardly surprising she should develop a style that switches easily between Celtic, contemporary and Americana. Over the past twenty years Heidi has performed all over the world, from the finest Concert Halls and Festivals to the White House.
Heidi has been nominated for Best Female Vocalist at The Irish Music Awards, , Singer of the year and Best Traditional Song by BBC Radio 2, Best Live Act by the Scottish Traditional Music Awards,
She has shared the stage and recorded with Mark Knopfler, Graham Coxon(Blur), Philip Selway (Radiohead), Donal Lunny, Sharon Shannon, Eddi Reader, Idlewild, Matt Rollings, King Creosote, Tim O'Brien and Jerry Douglas. So far 2023 has saw Heidi working with multi award winning composer, Christian Henson on an upcoming series for TV while completing her degree with the Film Scoring Academy of Europe.
Why are you involved in Scottish music?
I'm originally from Ireland but have been living in Scotland for the last 16 years, performing and recording with Scottish musicians and all over the UK. I'm a singer, songwriter and composer.
Any particular career highlights?
Releasing my album Sing It For A Lifetime in 2022. Completing my degree with The Film Scoring Academy of Europe in September 2023 and writing for and conducting the European Recording orchestra in Sofia, Bulgaria.
What are your plans for the future?
I'm planning to record an album of traditional folk songs in 2024 and continue to write and perform for TV/movie projects.
Heidi Talbot Social Media
Website: https://heiditalbot.com
Facebook: @heiditalbotofficial
Twitter: @
Instagram: @heiditalbotofficial
YouTube: @
TikTok: @
The 2023 MG ALBA Scots Trad Music Awards are on the 2nd December 2023! You will be able to watch it live in person (buy a ticket here),Watch it live in the UK at 9pm (GMT) on BBC ALBA and and around the world here. Bands performing on Saturday 2nd December include Peatbog Faeries, Mànran, Karine Polwart and Dave Milligan, Duncan Chisholm Band, Joy Dunlop Band, Aberdeen SC&T Youth and more!
If you would like to support Hands Up for Trad in their work with Scottish trad music and musicians why not become a friend of Hands Up for Trad. In addition to our high profile events like the Scots Trad Music Awards, we also deliver a less well known, education programme for young people from 8yrs right through to young adults at the start of their careers. Read more here.