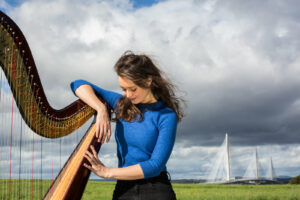 Congratulations to Esther Swift who has been nominated in Musician of the Year sponsored by University of the Highlands and Islands in the MG ALBA Scots Trad Music Awards 2023. Vote for Esther Swift now!. It's going to be another great night at the MG ALBA Scots Trad Music Awards on Saturday 2nd December in Dundee's Caird Hall. Why not join us for a brilliant night of music and awards. Buy a ticket here.
We asked Esther of Esther Swift the following questions.
Tell us about yourself
Having grown up with folk music from the Scottish borders and choral music as a chorister in St Mary's Cathedral in Edinburgh, my own music connects these two parts of myself. I have performed around the world and collaborated with incredible people, but what I always return to in my solo work is the deep connection I feel with nature. My lust for communication, engagement with my society, and a love of pushing musical boundaries has led me to write about landscapes, patterns and sounds found through connection, ritual and vulnerability. As my music has evolved over the years I have been influenced by poetry, minimalism, jazz harmony, and chamber-pop, and combine these elements to create genre-bending music.
As a composer, arranger and producer, and member of ensembles including Twelfth Day, Clouds Harp Quartet and The Other, I see my solo work as an opportunity to dig deep into the intimate interplay of the harp and voice. I am passionate about audiences connecting with me as a person, and delivering the story of my music, as well as seeing the true depth and diversity that the harp has to offer. My desire to bring myself and my instrument into more intimate settings where people can directly connect, is what stands me apart from other harpists and singers.
Why are you involved in Scottish music?
Scottish music is a melting pot of diversity and open minded collaboration. I feel very fortunate to have grown up with this tradition and ethos.
Any particular career highlights?
Traveling the world with my music as a creative collaborator and performer has shown me the power of international collaboration. With diverse, female-led collaboration being at the forefront of my practice, I have worked with artists who include Rachel McCrum, Kirsty Logan, Vulva Voce string quartet, Maya Yousef and Linh Ha (Tiny Giants). I have performed in many festivals including George Town Literary Festival, Wigtown Book Festival, Edinburgh International Festival, WOMAD and WOMAD Chile, Hillside Festival (Ontario), Auckland Folk Festival and Bath Arts Festival. I have been commissioned by Hidden Door festival, Chamber Music Scotland, Manchester Jazz Festival, Ayrshire Opera and The Edwin Morgan Trust, and many others, having premiers performed in the States, New Zealand, Vietnam and the UK. I have worked for The British Council, The Touring Network, Scotland on Tour and WOMAD in places including Vietnam, New Zealand and Malaysia.
What are your plans for the future?
Future performances include a month long tour throughout Germany as part of Akkordionale Festival, Manchester Harp Festival, Cambridge Folk Festival and New Zealand Arts Festival.
Esther Swift Social Media
Website: https://www.estherswift.co.uk
Facebook: @estherkateswift
Twitter: @estherkateswift
Instagram: @estherswiftmusic/
YouTube: @estherswift3572
TikTok: @
The 2023 MG ALBA Scots Trad Music Awards are on the 2nd December 2023! You will be able to watch it live in person (buy a ticket here),Watch it live in the UK at 9pm (GMT) on BBC ALBA and and around the world here. Bands performing on Saturday 2nd December include Peatbog Faeries, Mànran, Karine Polwart and Dave Milligan, Duncan Chisholm Band, Joy Dunlop Band, Aberdeen SC&T Youth and more!
If you would like to support Hands Up for Trad in their work with Scottish trad music and musicians why not become a friend of Hands Up for Trad. In addition to our high profile events like the Scots Trad Music Awards, we also deliver a less well known, education programme for young people from 8yrs right through to young adults at the start of their careers. Read more here.