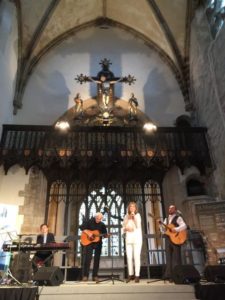 Congratulations to St.Margaret's Braemar who have been nominated in Venue of the Year sponsored by Musicians' Union in the MG ALBA Scots Trad Music Awards 2019. Vote here! Vote now!
We asked Jane Smith of St.Margaret's Braemar the following questions.
Tell us about yourself
St.Margaret's, Braemar is a former church now being re- purposed as a performance, arts and heritage venue.
Why are you involved in Scottish music?
One of our aims is to celebrate our cultural heritage including Traditional Music. We have long standing relationships with several traditional musicians in the area who love playing in St.Margaret's due to the acoustics. We have also ran several educational workshops to support young traditional musicians via Creative Scotland funding.The architecture of the building is particularly well suited to live acoustic music and the stunning backdrop of stained glass and carved wooden rood screen creates a fantastic setting for live music.
Any particular career highlights?
Transatlantic Connections
NAFCo
Mountain Melodies
What a Story a Pair of Boots Could Tell
Paul Anderson and Peter Hedlund
recordings for these are all on our website in the gallery section
What are your plans for the future?
We are continuing to run an annual programme of live music across a variety of genres , exhibitions, workshops and talks whilst seeking funding to completely redevelop the facilities of the building to make it fit for purpose as an internationally renowned performance and cultural heritage venue.
Read more about St.Margaret's Braemar
http://www.stmargaretsbraemar.org.uk/
Facebook: https://www.facebook.com/StMargaretsBraemar//
Twitter: https://twitter.com/StStMegs?lang=en/
Instagram: http://www.instagram.com/
If you wish to attend the final ceremony, tickets are are priced £25 (+ Booking Fee), and Concessions are available. To book please call Aberdeen Music Hall Box Office on 01224 641122, or visit: https://www.aberdeenperformingarts.com/whats-on/all-shows/the-mg-alba-scots-trad-music-awards/2734. Bands performing on Saturday 7th December include Skerryvore, Session A9, Benedict Morris (BBC Radio Scotland Young Traditional Musician Award Winner 2019), Heisk, Aberdeenshire Youth Band, Sian, Robyn Stapleton, Mairi Campbell and the Pendulum Band, Susan MacFadyen Scottish Dance Band and more to be announced. There will also be a late night ceilidh after the Awards till 1am.
If you would like to support Hands Up for Trad in their work with Scottish trad music and musicians please consider supporting our Patreon campaign. We have 3 tiers starting at $1 a month and everything helps support us in our work. Read more at www.patreon.com/handsupfortrad