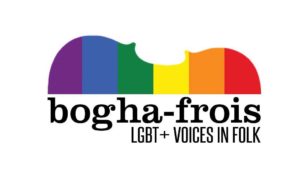 Congratulations to Bogha-frois: LGBT+ Voices in Folk who have been nominated in Community Project of the Year in the MG ALBA Scots Trad Music Awards 2019. Vote here! Vote now!
We asked Pedro Cameron of Bogha-frois: LGBT+ Voices in Folk the following questions.
Tell us about yourself
Bogha-frois (Rainbow) is a project aimed at LGBT+ folk musicians in Scotland. The project has gathered LGBT+ folk musicians from all over the country to write, collaborate on and perform songs in the folk tradition, which tell stories about life as a member of the LGBT community – with the ultimate aim being a series of concerts, which help to open up a link between the Scottish folk tradition and 21st century issues and values. The project looks to give a platform and a voice to the LGBT+ community in the traditional/folk scene.
In November 2018, the project held a series of 3 free workshops at the Storytelling Centre in Edinburgh, where LGBT+ musicians from across the country attended and tell their stories and create music based on those stories.
Workshops were led by Rachel Sermanni, Josie Duncan (Radio 2 Young Folk Award Winner), Grant McFarlane (Young Traditional Folk Musician of the Year Finalist), Laura Wilkie, and Marit Fait.
You can see a short film about the workshops here: https://youtu.be/F0y1ZmUyAWw
The work created was showcased at The Royal Concert Hall on Feb 3rd as part of Celtic Connections 2019, with performances from all participants and tutors, plus additional performances from Mischa Macpherson, Kim Carnie, Anna Massie, Nic Gareiss and Donald Grant among others.
Why are you involved in Scottish music?
Traditional music is storytelling music and Bogha-frois exists to try and make sure that stories from the perspective of the LGBT+ community is being heard too, and to help foster a community of musicians who identify with each other in that way.
Any particular career highlights?
The initial workshops were a joy and and we couldn't have predicted the impact it would have on everyone involved. We forged amazing friendships and made great music. The concert at Celtic Connections was amazing as well – but honestly, its hearing from musicians across the country that the project makes them feel safe and validated that is the real highlight.
What are your plans for the future?
Another concert is on the way at Celtic Connections is on the way in 2020 and more workshops. We hope that Bogha-frois keeps growing arms and legs and opening minds in the traditional music scene. Folk music is for everyone and we want everyone to see that.
Read more about Bogha-frois: LGBT+ Voices in Folk

Facebook: http://www.facebook.com/lgbtvoicesinfolk
Twitter: http://www.twitter.com/
Instagram: http://www.instagram.com/
If you wish to attend the final ceremony, tickets are are priced £25 (+ Booking Fee), and Concessions are available. To book please call Aberdeen Music Hall Box Office on 01224 641122, or visit: https://www.aberdeenperformingarts.com/whats-on/all-shows/the-mg-alba-scots-trad-music-awards/2734. Bands performing on Saturday 7th December include Skerryvore, Session A9, Benedict Morris (BBC Radio Scotland Young Traditional Musician Award Winner 2019), Heisk, Aberdeenshire Youth Band, Sian, Robyn Stapleton, Mairi Campbell and the Pendulum Band, Susan MacFadyen Scottish Dance Band and more to be announced. There will also be a late night ceilidh after the Awards till 1am.
If you would like to support Hands Up for Trad in their work with Scottish trad music and musicians please consider supporting our Patreon campaign. We have 3 tiers starting at $1 a month and everything helps support us in our work. Read more at www.patreon.com/handsupfortrad