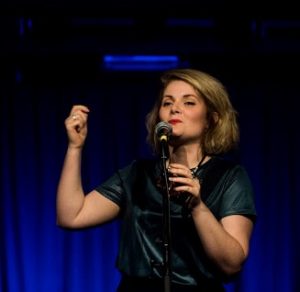 Congratulations to Victoria McNulty who have been nominated in Scots Writer o the Year sponsored by Scots Language Centre in the Scots Language Awards 2019. Vote now!
We asked Victoria McNulty of Victoria McNulty the following questions.
Tell us about yourself
I'm a spoken word poet and Community Arts practitioner from the East End of Glasgow. I am the reigning Sonnet Youth Slam Champion, the BBC Edinburgh Fringe Slam Runner Up and a Scottish National Slam finalist. My books Confessionals and Exiles (Speculative Books) explore the history and politics of the area from a working class perspective. Confessionals was developed into a theatre show in 2018 – directed and produced by Sonnet Youth and toured the UK and Ireland to critical acclaim. I have performed at established arts events across the country including The Edinburgh Festival, BBC 6 Music Festival, Feile an Phobail (Belfast) and the James Connolly Festival (Dublin), as well as contributing to Neu Reekie's residency at Curfew Tower, Country Antrim. in 2021, Exiles was developed into a Spoken Word Feature film, directed by Kevin P Gilday and David Hayman JR, featuring a score by Callum Baird, and produced by Fair Pley.
Why are you involved in Scots language?
I never set out to 'be involved' in the Scots Language. I write about communities that are often excluded or misrepresented by the main stream arts scene in Scotland. It is important for me to paint them accurately, vibrantly and as realistically as possible. The Glaswegian dialect plays a huge part in that for me. It also allows me to speak with urgency and humour in a way standard English does not.
I believe representation is crucial in wider culture and wanted to play a small part in that, representing characters from my city with accuracy, how they are and how they should be.
Any particular career highlights?
Exiles being produce into a film was my absolute career highlight. At that point, to my knowledge, no spoken word artist had/has attempted to create a long form piece in this medium, so it felt like a mile stone. I was able to work with other artists who were brave and passionate about the project – and it really showed me how far the envelop could be pushed creatively.
What are your plans for the future?
I would like to continue working in my community to support bottom up arts groups in exploring creative writing and spoken word.
I can't wait to get back to playing live and touring regularly again, but I'm also excited about further exploring how spoken word can enhance other art forms.
Read more about Victoria McNulty
https://victoriamcnultypoetry.webador.com/
Facebook:
Twitter: https://twitter.com/vmcnulty67?ref_src=twsrc%5Egoogle%7Ctwcamp%5Eserp%7Ctwgr%5Eauthor
Instagram: https://www.instagram.com/victoria_mc16/
The Scots Language Awards are in the Gardyne Theatre, Dundee on 25th September at 7pm. Tickets are available to buy here: https://www.gardynetheatre.org.uk/show/the-scots-language-awards/. Performing on Saturday 25th September include Ellie Beaton, Anna Stewart, Gemma Johnson and more to be announced.
If you would like to support Hands Up for Trad in their work with Scottish trad music and musicians please consider supporting our Patreon campaign. We have 3 tiers starting at $1 a month and everything helps support us in our work. Read more at www.patreon.com/handsupfortrad