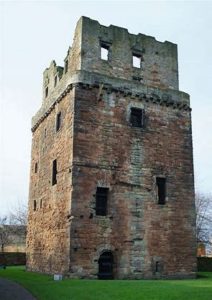 Congratulations to Preston Tower Primary School (Previously Prestonpans Primary) who have been nominated in Scots School o the Year sponsored by Itchy Coo and Black and White Publishing in the Scots Language Awards 2019. Vote now!
We asked Hannah Kerr of Preston Tower Primary School the following questions.
Tell us about yourself
We are a Primary School in East Lothian within a former mining town. A large proportion of the children who attend our school come from a poor socio economic background. Some of our pupils find aspects of Literacy to be a challenge and as a result can become disengaged. The children in our school are very proud of where they come from, many of their parents and carers also attended the school and therefore community plays a crucial role in our school ethos and values.
Why are you involved in Scots language?
4 years ago staff in Primary 7 decided to move away from only discussing Scots in preparation for Robert Burns Night. The children were encouraged to explore the Scots language and appreciate it as a language in it's own right rather than slang as it was perceived by some. They were given confidence to use and share the Scots they knew in both written and spoken activities. There was huge enjoyments and engagement from pupils and staff which lead to learning being shared with parents and across the school. Staff noticed a huge difference in engagement when using Scots, especially from pupils for whom Literacy is often a challenge. Children who rarely finished a written piece were proud of their work and keen to do more and children who would rarely share were confidently reading their own and other's work aloud. As a result of this we sought to have Matthew Fitt in to share the children's hard work with him. This reinforced to the children that Scots was a valued language and should be celebrated. Since then, we have worked to develop this ethos amongst all staff and the wider school community. Every year the teaching of Scots in our school goes from strength to strength and the children can build on their learning year upon year. Our Primary 5 year group do an annual assembly to share their Scots learning. The most recent garnered feedback from parents and carers which was hugely positive and a local Burns Appreciation Society were also highly complimentary and provided the school with gifts of vouchers to buy some Scots literature.
Any particular career highlights?
Seeing children who do not often engage in Literacy tasks growing in confidence and enthusiasm. The pride the children had in being given the opportunity by Matthew Fitt to provide feedback on some of his unpublished work. Witnessing lots of positive interactions between pupils and parents about their learning in Scots. Noticing a shift in the perception of Scots as a valued language. We were delighted to be asked to take part in an exciting project promoting Scots through film. This can be found at http://scotsinschools.co.uk/litprimary.html
What are your plans for the future?
Our Upper Primary have recently merged with the Infant School in Prestonpans growing our school roll from approximately 450 to nearly 900 pupils. What started 4 years ago as 3 teachers working with their indivdual classes has already grown to encompass the whole of the upper school (P4 – P7). We hope that by winning this award it would help to spur on the continued development of Scots across both campuses.
Read more about Preston Tower Primary School (Previously Prestonpans Primary)
If you wish to attend the Scots Language Awards, tickets are available to buy via: https://www.ticketsglasgow.com/Pages/EventDetail.aspx?EventId=8fd8b867-811e-4bfc-a2c0-aab900efc42b For box office call 0141 353 8000. Performing on Friday 27th September include Iona Fyfe Trio, Susi Briggs, Steve Byrne and more to be announced.
If you would like to support Hands Up for Trad in their work with Scottish trad music and musicians please consider supporting our Patreon campaign. We have 3 tiers starting at $1 a month and everything helps support us in our work. Read more at www.patreon.com/handsupfortrad
This post is also available in: Scots