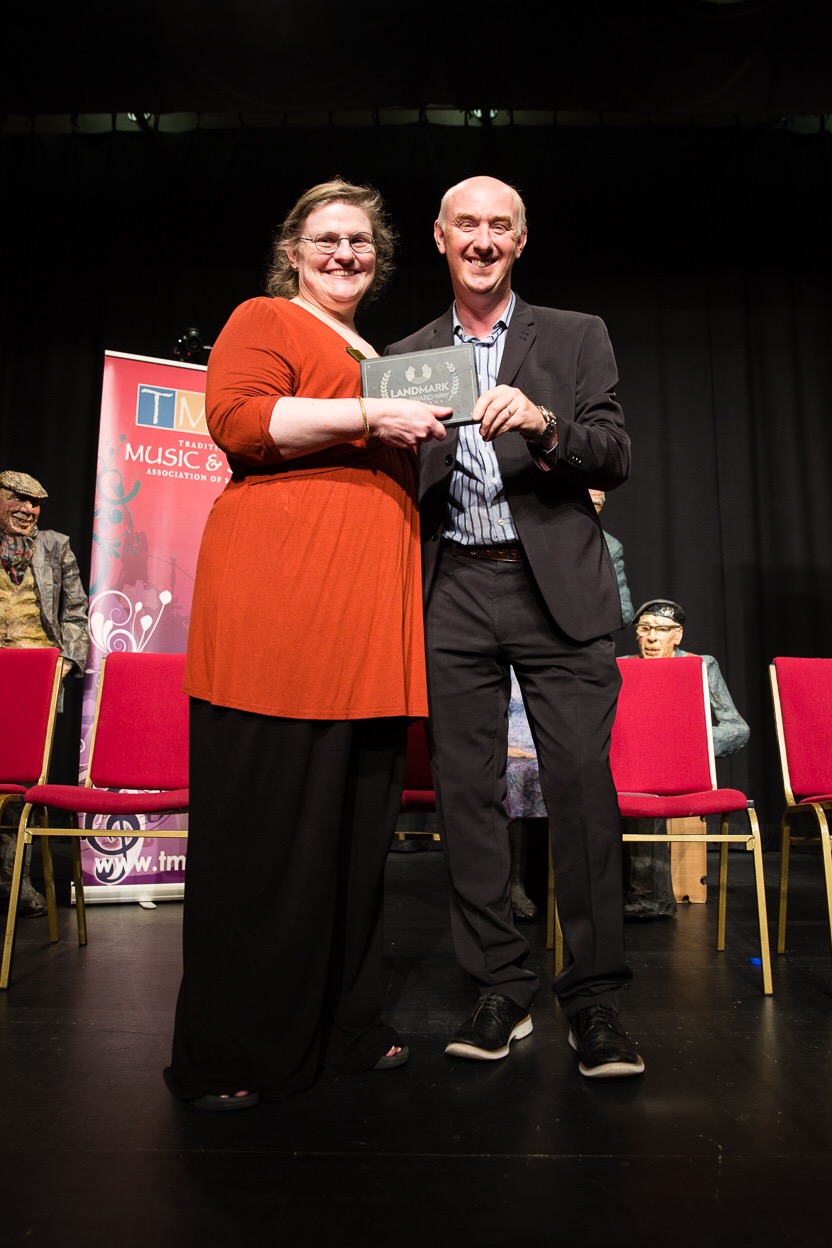 It was a real pleasure to head up to Blairgowrie on Saturday evening and take part in the sold out TMSA 50th Anniversary concert. 1966, the TMSA emerged from the Blairgowrie Folk Festival and to celebrate this they decided to put on a concert to remember the first festival. Singing and playing were Archie Fisher, Sheena Wellington, Doris Rougvie, Joe Aitken, Jimmy Hutchinson, Kenny Hadden, Davey Stewart, Aileen Carr, Pete Shepheard, Gillian Frame and Simon and Charlie Thoumire. I loved hearing the stories from everyone who were at the first festival in 1966. By all accounts the atmosphere was electric!
The Landmark presentation was made at the start of the second half and you can watch it on our Hands Up for Trad Facebook page.
Here is Simon Thoumire's speech.
It is a pleasure to be in Blairgowrie. An amazing place steeped in history and tradition. 50 years ago bothy ballad singer Jimmy MacBeath, Border shepherd and singer Willie Scott, the Stewarts of Blair, and Aberdeen ballad singer Jeannie Robertson came together for a concert that became the start of the Traditional Music and Song Association of Scotland.
In the years that followed the TMSA brought to the worlds attention Aly Bain from Shetland, Aonghas Grant from Lochaber and many more fabulous singers and musicians. As the organisation got bigger they formed branches all over Scotland and were able to bring the nation's focus on to our many indigenous languages and regional styles.
There has been so many people involved in this organisation it is impossible to mention them all but we need to mention Pete Shepheard whose passion for collecting, recording and promoting Scottish music forged the direction of the organisation and John Murphy of the Scottish Arts Council who enabled the Tmsa to be the first trad organisation to have a development worker – Jane Fraser.
So I'm here tonight from Hands Up for Trad to present the TMSA with one of our Landmark Awards to celebrate their first 50 years. I also want to congratulate the current board on their steadfast work through difficult financial times. Scotland needs people who care and the TMSA board are those people. Let's have a big hand for Fiona Campbell and all at the TMSA and here's to the next 50 years.
The concert was supported in memory of Ian (Jock) Hunter. Have a look at Martin Forry's amazing photos of the evening.
Default Gallery Type Template
This is the default gallery type template, located in:
/home/projects/public_html/wp-content/plugins/nextgen-gallery/products/photocrati_nextgen/modules/nextgen_gallery_display/templates/index.php.
If you're seeing this, it's because the gallery type you selected has not provided a template of it's own.