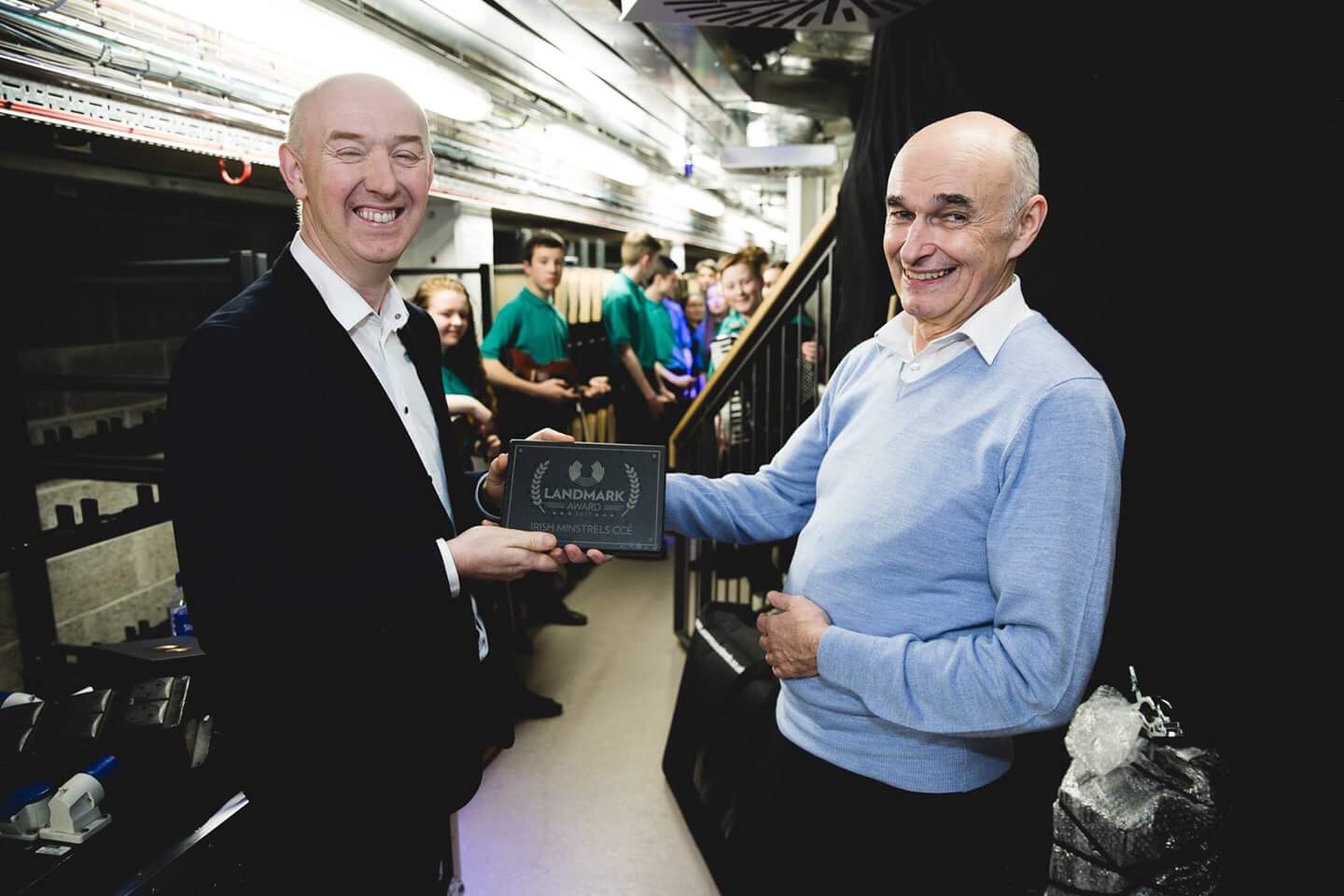 It was great to go along to the Irish Minstrels CCE concert at Celtic Connections and present them with our Landmark Award. 60 years is an amazing achievement for this organisation and it continues to go from strenth to strength. This was the second of 2 events – the first being a sold out dinner at Celtic Park (in Glasgow). You can view the photos of the dinner here and the photos of the Celtic Connections concert here.
Here is my presentation speech.
Good evening
"Determine that the thing can and shall be done and then we shall find the way" said Abraham Lincoln
I don't know if Owen Kelly and Jimmy McHugh were thinking about President Lincoln when they decided to form the Irish Minstrels in 1957 however they knew it could be done and the fact we are celebrating 60 years in 2017 is proof that they found the way. Owen and Jimmy alongside Donal Boyle, Annie McGrath, Anne McHugh, Christy Darby, Pat McCusker and Pat Hetherson formed the first Comhaltas committee outside Ireland. Straight away the branch found success at the All Ireland with Jimmy McHugh winning the fiddle competition and the following year, Pat McNulty, whom Jimmy had encouraged to join the branch, won the uilleann piping title and Owen Kelly himself came second in the men's ballad singing event starting an All Ireland successful branch tradition.
Forming the Irish Minstrels wasn't just about music though it was about standing up for Irish culture and keeping it alive. The original members of the Irish Minstrels would be over the moon to see this event tonight celebrating Irish music loud and proud at Scotland's biggest music festival.
Since the early days the branch has continued to go from strength to strength and in 2016 the Irish Minstrels sent one hundred and twenty qualified competitors to Fleadh Cheoil na hÉireann, the all-Ireland music championships. That's amazing. We all know though that none of us would have got there if branch secretary Moira Callaghan hadn't organised us. Let's give Moira a big cheer for all our work for the branch every week of the year!
So I'm here tonight representing Hands Up for Trad and we are very proud to recognise the achievement of the the Irish Minstrels reaching 60 years of age. Congratulations to the current chairman Frank McArdle and team and here's to the next 60!
https://projects.handsupfortrad.scot/landmark/the-irish-minstrels-cce-1957-2017-60-years-old/