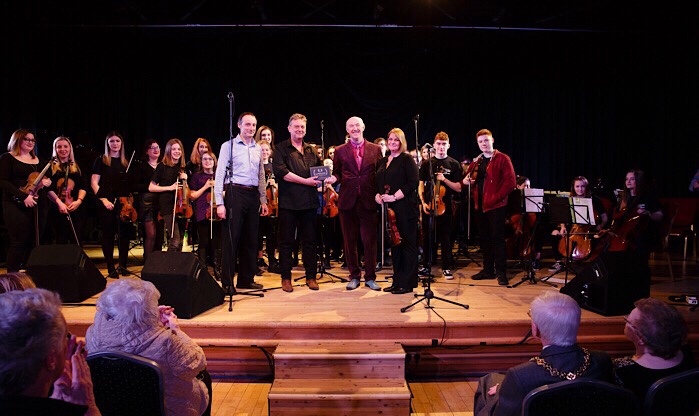 Tayside Young Fiddlers is a dynamic and energetic organisation that nurtures young people from Dundee and the surrounding area's interest in traditional Scottish fiddle music and offers superb tuition and opportunities to make new friends, learn performance skills and meet and learn from some of the best fiddle players and musicians on the Scottish scene.
Formed in 1992 as the junior wing of Dundee Strathspey and Reel Society, the group has continued since 2006 as an independent but complementary organisation with an interest in playing music by composers from more recent times. The late, great piper and tunesmith Gordon Duncan, his outstanding disciple Ross Ainslie, award winning fiddler-composer Adam Sutherland and California-based Scot Alasdair Fraser have all contributed to the Tayside Young Fiddlers repertoire and current musical director, Kevin Findlay keeps abreast of the latest tunes that his young musicians will enjoy playing.
Check out Martin Forry's photos of Anniversary Concert.
Findlay took over as musical director in 2006, by which time, beginning under founder Bob Edwards, Tayside Young Fiddlers had become established as an encouraging and stimulating home for young musical talent. Among early members were Patsy Reid, who went on to form internationally popular trad band Breabach and is now a successful solo performer, and Laura McGhee, who is now working in Nashville. More recently, Eilidh Firth of the young band Barluath, winners of a prestigious Danny Kyle award at Celtic Connections in 2012, enjoyed her time with TYF.
Early TYF performances included the inauguration of Discovery Point in Dundee, home to Captain Scott of the Antarctic's Dundee built ship RRS Discovery, shortly after the group formed and by 2003 the group was ready to record its first CD, Finely Tuned. Two further recordings, Rocking the Baby (2013) and Journey, which was released to mark the group's twenty-fifth anniversary, have followed.
The group meets every Tuesday of the school term in Eastern Primary School in Broughty Ferry and is open to violin, viola and cello players ideally aged between ten and seventeen. A minimum standard of Associated Board Grade 2 is recommended for new members. The current strength is thirty and activities are planned to coincide with the school year so that members aren't distracted from exams.
Although many of the performances undertaken have been at the invitation of Dundee City Council, including Dundee Flower and Food Festival and the ceremony to mark the switching on of Christmas lights, the group has organised a number of prestigious events of its own. In 2010, Tayside Young Fiddlers hosted a visit by New York State's Strawberry Hill Fiddlers, playing gigs together and exchanging ideas.
The group also undertook a Highland tour in 2014 and the same year saw them performing at the Niel Gow Fiddle Festival in Dunkeld on a bill with fiddler Eilidh Shaw. They have also appeared in concert as support to singer-guitarist Ivan Drever and in December 2016 they formed Abercraig, with other young musicians from the Dundee, Angus and North Fife areas, to perform during the Na Trads in the Caird Hall in Dundee.
In the run-up to the group's twenty-fifth anniversary concert in the city's Bonar Hall, with Patsy Reid, Sheena Wellington, Steve Byrne, and McKenzie Caledonian Pipe Band, Tayside Young Fiddlers won its biggest honour to date: the Dundee Musicians Award. The accompanying grant is going towards a recording project that will encourage musical learning and enhance understanding of the local and national tradition.