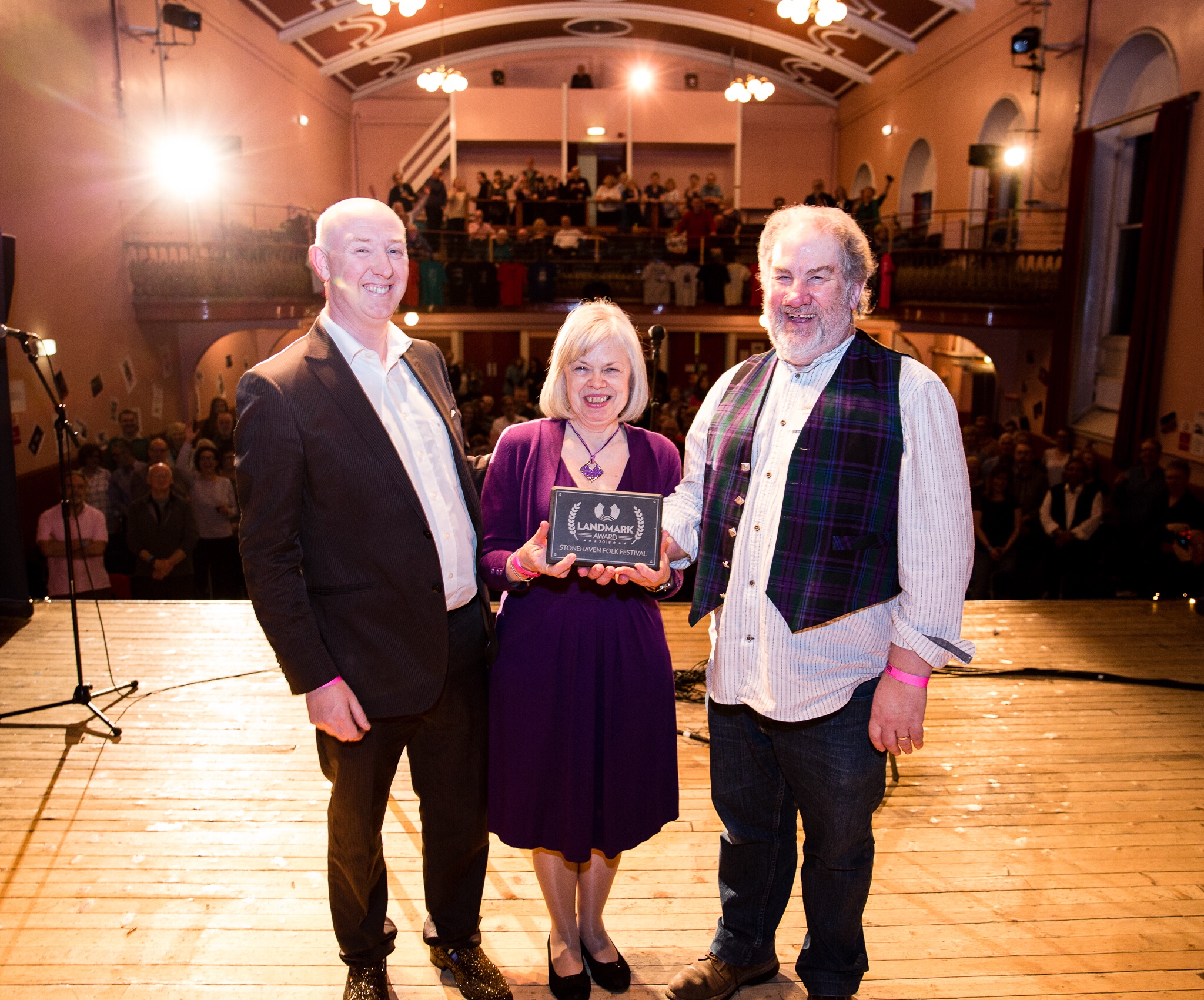 Stonehaven Folk Festival began in 1988 after a successful Stonehaven Folk Club was started in the wine bar in Allardice Street, Stonehaven. The original idea for the Festival came from Sandy Johnston and Bill McEwen after they had been speaking to Councillor Harrison McLean.  They then approached the Folk Club and a Steering Committee was formed.
Initially there was some local resistance to the first festival with fears of long haired drunken individuals rampaging through the town. This led to the committee branding themselves as "Middle Aged and Well behaved" – with badges to prove it.
The first festival was in 1989, it was centred around the Town Hall and it featured amongst others Dougie MacLean.
It was a great success and when the local businesses realised that the attendees spent their hard earned cash over the weekend adding to the local economy, the future of the festival was assured.
The festival has always been well organised and has paid great attention to looking after both the audience and also the artists. This attention to detail has helped maintain the festivals high reputation amongst the public and also the performers who come and play.
As the festival developed and evolved more activities were added to the weekend. A small concert stage was set up in the Plainstones on the Saturday, this became the Marquee in the Square on both Saturday and Sunday afternoon, with free concerts. The World Paper'n'Comb Championship and the Aqua Ceilidh were both fun ideas which have become firmly part of the festival. Venues were added as the festival grew including the Recreation Club, The British Legion, St Bridget's Hall, the 65 Club and the Community Centre
Youth involvement has long been a part of the Festival with initially the Acoustic Youth Stage —a showcase for younger musicians and singers, the North East Folk Collective and performance opportunities at the Marquee in the square.
Education through workshops has also always been integral to the Festival. The opportunity is taken to use some of the world class musicians performing at the festival to run workshops or master classes. We have also added a "Gie it a Go" programme to encourage people to try a new skill either a musical instrument or singing.
Sessions in Bars and Hotels are a key part of the festival, acting as both a social activity and also an opportunity to share and exchange tunes and songs. Some of these are hosted by local musicians but many are spontaneous and if the weather is right the Harbour is always popular.
Traditional song is at the heart of the Festival. Since the early years, there always been a concert featuring traditional singers and late night singarounds.
The Festival has grown organically over the years, it does not stand still. All of the above have established very firm foundations for the future.
Fyi:
Festival Facts and Figures
• The 1st Festival was held in 1989
• 2018 will be the 30th Festival
• Festival attracts about 2,500 people over the weekend