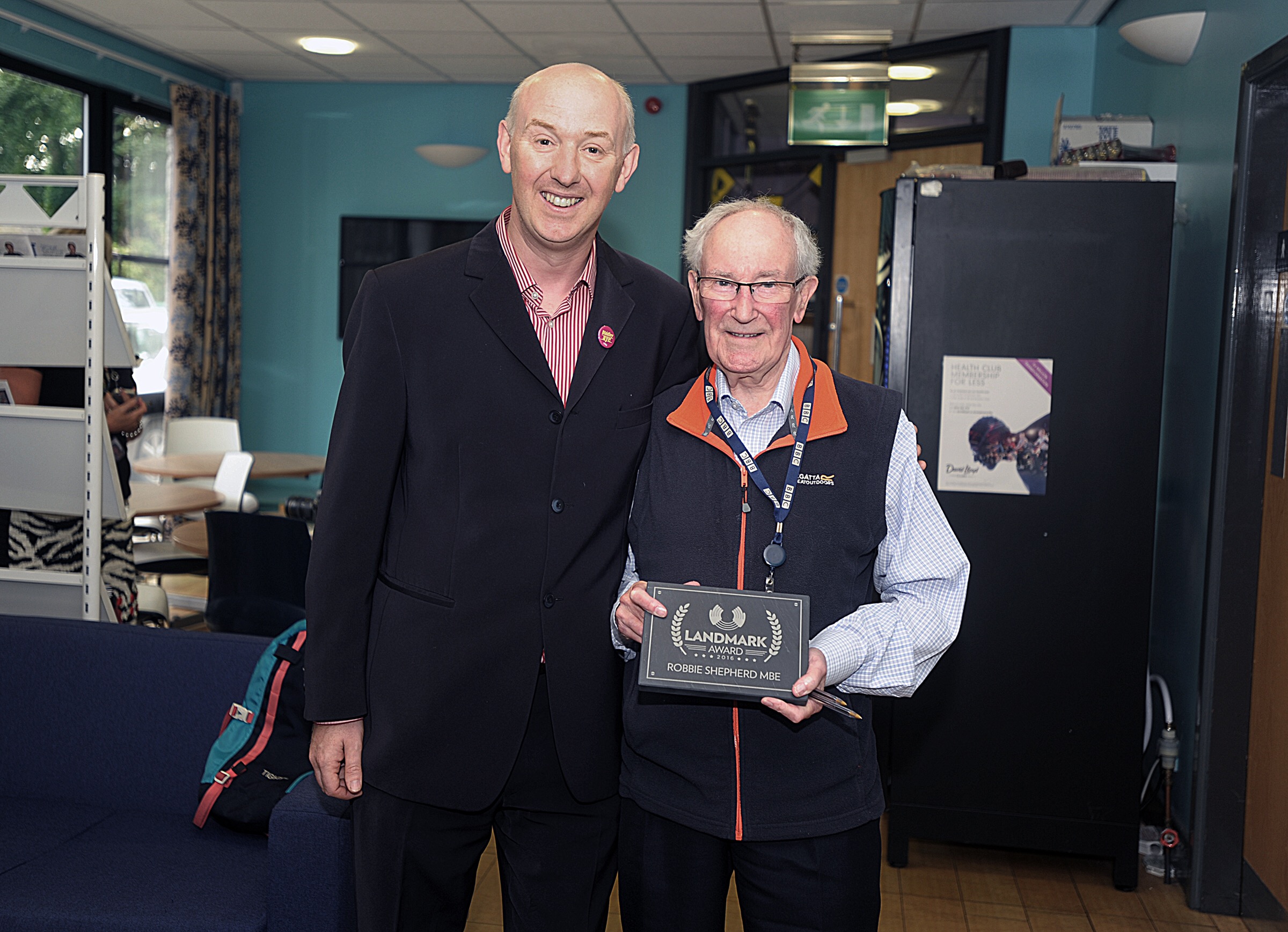 For fifty years Robbie Shepherd's immediately recognisable tones were a familiar part of Scottish public life.
As the presenter of BBC Radio Scotland's Take the Floor and The Reel Blend, Robbie's strong Doric accent made him welcome in homes throughout Scotland. And with the advent of internet broadcasting, his audience reached expatriate Scots and Scottish music aficionados across the world.
Robbie was born in Dunecht, twelve miles outside Aberdeen, and when Robbie was growing up his father used to go into the city once a month to buy records. The young Robbie could hardly wait to hear the latest Jimmy Shand, Robert Wilson and Kenneth McKellar releases, and his enthusiasm for Scottish music never faded.
In his younger days Robbie played moothie with a band and once supported Calum Kennedy. But it was language that was to bring him to the public attention. He commentated on the Highland Games circuit, including the famous Braemar Gathering, from the 1960s onwards and as a popular concert compere he travelled the length and breadth of Scotland and down to the Royal Albert Hall with the Scottish Fiddle Orchestra.
Robbie's acknowledged expertise in his mother tongue – Doric – resulted in Aberdeen University awarding him the M.Univ (Master of the University) for services to Scottish culture in 2001. His regular columns for the Aberdeen Press & Journal, in which he reflected with pithy humour in his own accent on current affairs, books and films, enjoyed an enthusiastic following and were collected into one volume, Doric Columns, in 2005. His publishers, Birlinn, also commissioned Robbie to co-author the Dash O' Doric series with Norman Harper.
When the original host of Take the Floor, David Findlay, died in 1981, Robbie was invited to take over. Despite initial opposition from some who found his broad Doric accent unsuitable, Robbie soon made the programme his own. His warm welcome and genuine love of the music he presented immediately put his audience at ease.
This was particularly true when Take the Floor took to the road and broadcast live from Lerwick or Achiltibuie or the many other places where Robbie and crew rolled up. Such adventures didn't always go entirely to plan. Among his many recollections was the time he and his production team had to saw through a chain across the door of a Glasgow hall before they got in and got the show going. Then, on Mull, they once had to keep pumping coins into a hungry electricity meter so that the power would stay on through the show.
The power of Robbie's personality ensured that many honours came his way. In 1992 his services to Scottish Music were recognised by the National Association of Accordion and Fiddle Clubs, and in 1998 he was presented with an award for outstanding loyalty to the Royal Scottish Country Dance Society.
In the 2001 New Year's Honours List Robbie was appointed MBE for his services to Scottish Music and Culture and in 2006 he received the Hamish Henderson Award for services to traditional music in the Scots Trad Music Awards. Other recognition came in the form of a ceilidh band calling themselves Robbie Shepherd's Nightmare and a poem written in his honour by Simon Brown – a suitable tribute to a man of letters and a poet of the airwaves.