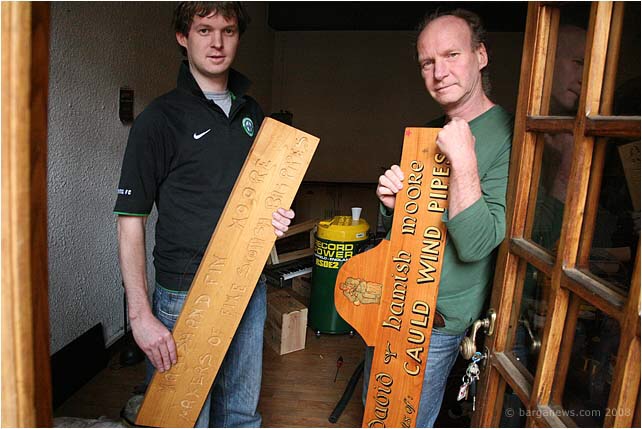 Hamish Moore experienced a major turning point in his life, not on the road to Damascus but in County Clare, in Ireland, when he was standing in for the local vet. Hearing and seeing the uilleann pipes made Hamish wonder if there might be a Scottish equivalent and when he returned home he quickly discovered that there were indeed Scottish bellows-blown pipes.
Iain MacDonald, of the famous Glenuig piping brothers, Rab Wallace of the Whistlebinkies, Dougie Pincock, of Battlefield Band, and Jimmy Anderson of the Clutha had been working with Scottish smallpipes for some time by then and soon after Hamish arrived back in Kingussie, where he was living and working at the time, his next door neighbour left an old set of smallpipes on his kitchen table.
Hamish sensed that he was being given a message. He had Colin Ross, the great Northumbrian piper and pipemaker, restore this set of pipes and then set about serving an apprenticeship as a smallpiper, first with a pub group in Kingussie and then with Jock Tamson's Bairns and their successors, Chorda, which featured Rod Paterson, Ian Hardie and John Croall.
Having played the Highland pipes from a young age and having competed successfully on the competition and pipe band scenes through his teens, Hamish already knew his way around the chanter. He also knew all the leading pipers and when he stopped practising as a vet to concentrate on making pipes in 1986, he felt that in order to get the giants of the Highland piping world taking his smallpipes seriously, he had to ensure the highest quality of sound. This meant creating reeds that were absolutely dependable and he spent a long time perfecting his reed-making skills – skills that along with woodturning he had to learn from scratch.
A number of people helped Hamish to launch his own brand of pipes. His father had worked as a consultant forester for the United Nations, as well as being a wood turner, and he shared his encyclopaedic knowledge of tropical hardwoods. Allistair Sinclair, of Leith bagpipe makers William Sinclair & Son, lent invaluable assistance, as did Colin Ross and flute maker Rod Cameron from Mendocino.
Choosing boxwood as his favoured medium, Hamish worked by trial and error and soon realised that the first skill a pipe maker needs is to be a piper. His experience as a player was crucial in developing the sound and mechanics of his pipes, although he concedes that the secret of his pipes' sound is the reeds he uses – and the secret of making the best reeds is to work with the best cane in the world.
Cane, he says, is like wine. It can vary from area to area and from year to year and his supply comes from a small family firm in the south of France that supplies cane for reeds for the whole range of woodwind instruments.
As well as providing high quality instruments to all the leading smallpipers at home, Hamish and his son, Fin, who took over the Dunkeld-based business in 2013, now export smallpipes, Border pipes and Highland pipes to every country in the world where pipes are played, with a particular concentration in France, Italy and Spain.
Hamish Moore pipes are showcased on numerous albums including The Piper and the Maker, featuring twelve leading pipers, and the debut album by Fin and his group of pipe music specialists, Seudan, both on the extremely supportive Greentrax Recordings. There is no greater reward, says Hamish, than to hear Hamish Moore pipes being played by master pipers.