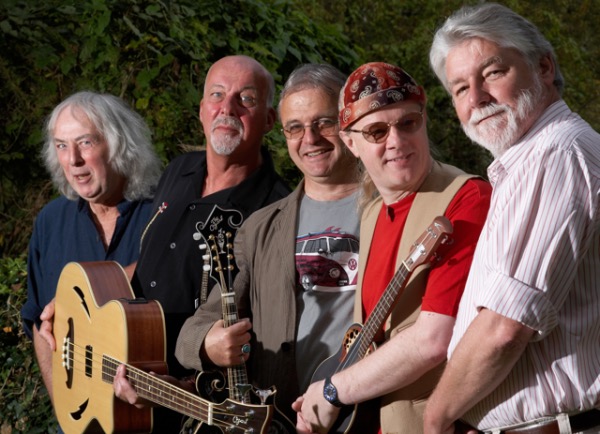 Dave Pegg has likened Fairport Convention's personnel changes over the years to the staff turnover at a small company. Twenty-five musicians have participated in the Fairport adventure since the band played its first gig in St Michael's Church in Golders Green, London NW11 on May 27, 1967, and any small company would be delighted indeed to have employed such a wealth of talents.
Aside from bassist Pegg himself, who joined in 1969 and has given the longest continuous service, Fairport has featured two of Britain's greatest singer-songwriters, Sandy Denny and Richard Thompson, the singer of a number one single, Iain Matthews, the highly individual instrumental abilities of Thompson, fiddler Dave Swarbrick and guitarist Jerry Donahue, and a founder of another hugely successful folk-rock band, Ashley Hutchings, who went off to form Steeleye Span.
The music they've created has included the evergreen classics Who Knows Where the Time Goes and Meet on the Ledge, the ground-breaking album Liege & Lief, a concept album that became a BBC Television film, Babbacombe Lee, and a B-side that's a contender for the longest title ever to appear on a record label.
These and many other Fairport items have become part of the fabric of thousands of people's lives across the world.
Fairport's story begins in 1966, when bass guitarist Ashley Hutchings met singer-guitarist Simon Nicol in the Ethnic Shuffle Orchestra. They rehearsed above Nicol's father's medical practice in Muswell Hill, in a house called Fairport, and when they decided to form their own band in early 1967, they invited guitarist Richard Thompson and drummer Shaun Frater to a Fairport convention. It's entirely apt that Nicol, who had "time off for good behaviour" between 1971 and 1976 and is now the only original member still present, should be the source of the band's name
Their first gig was also Frater's last as a young drummer called Martin Lamble was in the audience and he convinced them that he could do a better job. Singer Judy Dyble was added and within a few months of gigging around London they had come to the attention of Joe Boyd, the American record producer who guided the Incredible String Band, Nick Drake, the McGarrigle Sisters and countless others. Boyd suggested adding Iain Matthews on vocals and oversaw their first, self-titled album, which was released in late 1967.
By the time the second Fairport album, What We Did on Our Holidays, appeared in early 1969, Dyble had been replaced by Sandy Denny, who as well as an utterly distinctive, strong singing voice added songwriting skills and folksong knowledge to the band's talent for choosing the best works from emerging American songwriters.
Just as the momentum and their development of folk-rock was building with another album, Unhalfbricking, however, the band suffered a tragedy when their van came off the M1 following a gig in Birmingham and Lamble was killed. They nearly gave up but returned with Liege & Lief, the album that defines the Fairport sound with its energised readings of traditional ballads including Tam Lin and Matty Groves. In had come Swarbrick and Lamble's replacement, Dave Mattacks, but out shortly afterwards went Hutchings, followed by Denny. Then, in 1971, after contributing majorly to another source of Fairport classics, Full House, Thompson left.
As the 1970s continued, Fairport swung from triumphs (Babbacombe Lee, Fairport Nine) to disasters, which included losing Nicol, having Denny rejoin only to leave again and then being dropped by first Island Records and then Vertigo. In 1979, they staged a farewell performance at Cropredy in Oxfordshire. In typical Fairport style, this was followed by a reunion gig at the same venue the following year.
In 1985, Nicol and Pegg, who had been working with Jethro Tull, decided to put Fairport back on the road. Mattacks signed up but Swarbrick declined and Ric Sanders, from Soft Machine, joined on fiddle with multi-instrumentalist Maartin Allcock completing the quintet.
The years since then have combined comparative stability – Allcock left in 1996 to be replaced by Chris Leslie and Gerry Conway replaced Mattacks in 1998 – with rejuvenation as a steady supply of strong new material that stands alongside Fairport favourites has helped the band to maintain its position at the forefront of folk-rock.
A Lifetime Achievement Award at the 2002 BBC Radio 2 Folk Awards cemented the band's reputation and annual winter and spring tours continue to find Fairport's loyal fanbase only too happy to accept the now long-established invitation to Walk Awhile.
ENDS