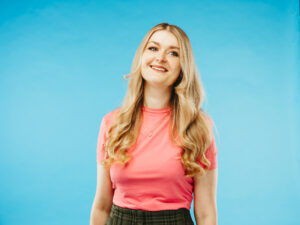 Hands Up for Trad's Women in Music and Culture 2023 list has been announced to celebrate just some of the women working in Scotland.
Launched as part of International Women's Day 2023, we shine the spotlight on 15 women who all contribute towards Scotland's cultural landscape through their work. Read the list here.
We asked Josie Duncan to tell us more about there work, influences and ambitions for the future.
How did you first get involved in the arts and who were your early influences?
Growing up in a musical household on the Isle of Lewis, I was immersed in traditional music from a young age. From my first year of primary school, I was involved in choirs and annually took part in The Mod. I was hugely influenced by the local music scene which encompassed all genres.
I've always been drawn to listening to female singers and from an early age my regular rotation included Joni Mitchell, Julie Fowlis, Karine Polwart and Eva Cassidy.
At a time which has been very challenging for many people working in the arts, how did you use the last 3 years to develop your creativity?
While stuck at home, I spent lots of time learning about the production side of things. I spent hours on ableton and I've grown to really love it. It's opened up a whole new world of sound for me to draw on and is now a tool I use regularly in my own writing and arranging. This skill benefitted me greatly for my commissions during covid. (New Voices, Heb Celt opening Concert)
I released my debut album of original songs last year which I was working on throughout lockdown and a lot of this was done via demos with my producer Craig McMahon.
Who or what interests you creatively?
Creatively I am often inspired by landscapes and the sound within it. Being from an Island and now living in a city has meant that my surroundings have a very clear and contrasting before and after. I love to find the beauty or intrigue in things that may seem very normal and am often out an about recording things from birdsong, crunchy leaves to cars and recently I sampled the sound of a till in my local shop.
I believe inspiration is all around when you are ready to find it. It could come from a traditional song, or a chat with a pal. I am endlessly inspired and in awe of the work my friends create. Visual art, pottery, music etc…. I feel that being surrounded by creativity breeds creativity and I am so grateful to be surrounded by and constantly inspired by my peers and pals.
What are your plans for the next year or so and/or what are your longer term creative ambitions?
I have been writing a lot of songs and am just about to head out on tour! I have a new Gaelic song project coming up too, which I am hugely excited to be able to talk more about in the near future.
Long term I hope to continue to be lucky enough to make a living from music and I would love the chance to work on more composition projects as I've found so much joy from them over the past few years. I have also adored working on some theatre projects and really hope to do more of this.
Find out more about Josie Duncan here.
Hands Up for Trad are an organisation who work with Scottish traditional music, language and culture. If you would like to support our work you can donate here.
Follow these topics: News, Women in Music