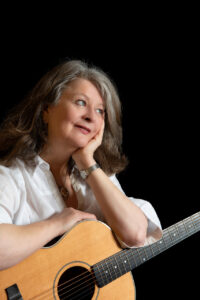 Hands Up for Trad's Women in Music and Culture 2023 list has been announced to celebrate just some of the women working in Scotland.
Launched as part of International Women's Day 2023, we shine the spotlight on 15 women who all contribute towards Scotland's cultural landscape through their work. Read the list here.
We asked Christine Kydd to tell us more about there work, influences and ambitions for the future.
How did you first get involved in the arts and who were your early influences?
It's hard to encapsulate influences from childhood, but country dance music carols and hymns at church and school, and radio programme Singing Together on BBC schools Radio, were huge influences. I had a band with my friends from the age of 10 and we were influenced by Joan Baez and pop music- you bought word sheets of songs from the radio and then tried to work it out on the guitar. We are still close friends! I had some piano lessons too, at home, and was taught Sol Fah at school.
There's too much music to mention! I grew up with the background of David Bowie, Bob Dylan, Tannahill Weavers, Lindisfarne, Rab Noakes, Lou Reed, The Doors, Joe Cocker, Steely Dan, Little Feat, James Taylor, Cat Stevens, Carole King, Neil Young, Marc Bolan, Steeleye Span, Sutherland Brothers and Quiver, Doobie Brothers, Matt McGinn, Billy Connolly, Joan Armatrading, Linda Ronstadt, Janis Ian. I taught myself to harmonize using the amazing Joni Mitchell as my challenge!
I was involved with the Wee Mary nights at St Andrews University, writing my own songs and playing in bands. It was on the cusp between progressive rock and punk. At that time the visiting bands at the Union included Five Hand Reel, John Martyn John Otway , and 'unknowns' like The Police and the Jam!
St Andrews' Folk Club was an influence, and I got into listening to Archie Fisher and a whole bunch of folk after University. I'm grateful to John Barrow and Ian Green for bringing me into the scene in the early 80s. This is where my immersion in folk music began, although I love
to listen to good music whatever the genre! Brecht and Weil, Women singers like Nina Simone, Miriam Makeba, Mystere des Voix Bulgares, Janet Russell, Elspeth Cowie, Cilla Fisher, Barbara Dymock, Aileen Carr, Janice Reavell, including Maureen Jelks, who I spent a lot of time with, and on the folk scene, other influences (there are too many to mention- huge apologies for any glaring omission) would include Jo Miller, Margaret Bennett, Gordeanna McCulloch and Sheila Stewart. Kevin Mitchell, Rod Paterson, and Dick Gaughan, Michael Marra. Bands like Jock Tamson's Bairns, Clutha, Easy Club.
I'm also influenced by those I saw up and coming, including the wonderful Karine Polwart. There are some fantastic young singers out there.
At a time which has been very challenging for many people working in the arts, how did you use the last 3 years to develop your creativity?
I've had some time off for recovery from medical treatment since 2021, but am on the mend, still songwriting and creating. Before the treatment, I spent covid times working online supporting people living with Dementia their carers for a fantastic project 'Meeting Centres'. A singing group gained international members online through Kirrie Connections who also hosts and supports an idea I came up with called Orlang- it's based on The Scottish Poetry Library and Scottish Storytelling Centre Living Voice project- which uses various elements to facilitate and curate conversation in care settings. At KC we added visual art to the existing model which uses song, story, poetry, image artefact and plant to focus participation. Orlang has a calendrical approach, to help orientate the members in whatever is the month and season. I also have a host of trad songs for a new album and I hope to record soon. I've also been having tuition from Blythe Duff on text adn acting skills, as I'm keen to explore more, having worked in theatre over the years, Communicado Theatre, Theatre Workshop, Dundee Rep.
Who or what interests you creatively?
Exploration, theatre, movement, visual arts, and obviously, song. I like to feel that I keep the channel open for new experiences.
As a folklorist and someone who cares about the environment and the future, I'm encouraged to see the emerging work linking creativity with climate crisis, connection with land and sea. Janet Russell and I were singing about environmental concerns a very long time ago and it's dismaying that time continues to run out to solve the issues. Ever hopeful, I'm involved with the local growing and sustainability project , offering whatever skills I have for supporting biodiversity and the hope of restoring nature. I'm looking forward to catching up with all the amazing work done on this that I missed during my recovery from cancer, by projects including Dandelion, and the work of Jim Sutherland. Looking forward to finding out how I can be part of the movement merging ethnology and creativity with supporting the fight against global warming.
As well as my own creative process, I love to facilitate others, and I am pleased to have taught so many songs to so many people in schools and community settings, and proud to have been invited to work with and talk to organisations in Europe about the work Ewan McVicar and I have done over the years in engaging schools and communities in the traditional arts, as Ceilidhmakers (orginally set up with dancer Mats Melin). Scotland Sings' The Choir Leaders Handbook (what it says on the tin!) I co wrote with Ali Burns is apparently a well used resource. One of the community singing groups I am founding MD of , Just Singin Birnam have their 20th anniversary concert this year- and that's not the earliest of similar projects I set up!
What are your plans for the next year or so and/or what are your longer term creative ambitions?
This year, plans include a wee bit of singing and teaching and recording and writing, Scots Music and Song Summer School Barga, and at the traditional singing festival at Drax, Yorkshire. It's a huge honour to be involved.
In 2024 'm hoping to be fully up and running and looking forward to exploring what I can get involved in on my own and collaboratively- working with people living with dementia, training others to deliver Orlang, theatre, singing. I'll be asking you to buy charity downloads of new songs I wrote in gratitude for Maggie's Centre in Dundee, and working on a new piece about my medical journey (honest, it's fun)
Bookings are coming in for gigs and festivals and at the moment it's making sure I get timing right and don't do too much too early. Working on getting fit, growing food again this season, and looking forward to starting cold water swimming again. That buzz surely gets ye singin!
Find out more about Christine Kydd here.
Hands Up for Trad are an organisation who work with Scottish traditional music, language and culture. If you would like to support our work you can donate here.
Follow these topics: News, Women in Music