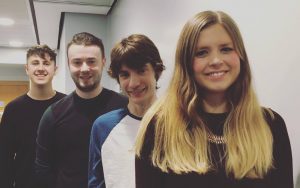 Tradosaurus have reached the finals of Battle of The Folk Bands 2017. The competition will be held at TradFest on May 7th 2017 in Edinburgh. Why not come along and join in the fun? You can buy tickets here. Read about all the finalists here.
We asked Tina of Tradosaurus a few questions about the band.
Tell us about your band
Playing ferociously exciting tunes with a roaring high level of energy, Tradosaurus are sure to bring the house down with a dino-mite set.
Who are the band members
Kevin Murphy – piano accordion
Ryan Young – fiddle
Tina Jordan Rees – piano
Charlie Galloway – guitar
John Lowrie – drums
What are your hopes and aspirations for the band?
We hope to play in venues and at festivals throughout Scotland and across the globe, entertaining audiences with our exciting music, and as many dinosaur puns as possible.
Check out the band's website.
Battle of The Folk Bands is a Hands Up for Trad project. Read about the organisation and join our weekly Scottish music information email here.
Follow these topics: News