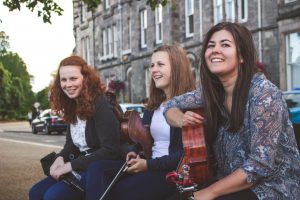 Hecla have reached the finals of Battle of The Folk Bands 2017. The competition will be held at TradFest on May 7th 2017 in Edinburgh. Why not come along and join in the fun? You can buy tickets here. Read about all the finalists here.
We asked Ilona of Hecla a few questions about the band.
Tell us about your band
HECLA is a traditional music trio featuring Ailis Sutherland (pipes/whistles), Ilona Kennedy (fiddle) and Kaitlin Ross (guitar/vocals) playing tunes in the Scottish and Irish idiom as well as Gaelic songs.
Ilona and Kaitlin, former pupils of Plockton Music School and Ailis, a former World Pipe Band Champion, started playing together through their involvement with the Fèis movement. Currently based in the Western Isles where all three are studying at UHI for a BA in Applied Music, the trio has made appearances at Piping Live! and Celtic Connections. Having previously given performances under the working title of 'Ailis, Ilona & Kaitlin', the band takes its name from the beautiful and enigmatic hill in South Uist.
Who are the band members
Ailis Sutherland – Pipes & Whistle
Ilona Kennedy – Fiddle
Kaitlin Ross – Guitar & Vocals
What are you hopes and aspirations for the band?
Play at some nice festivals, do a bit of touring and see how our music evolves.
Check out the band's website.
Battle of The Folk Bands is a Hands Up for Trad project. Read about the organisation and join our weekly Scottish music information email here.
Follow these topics: News