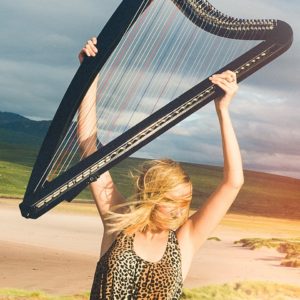 Rachel Newton are touring U.K in the near future. Why not play a track from Rachel Newton to promote the tour on your radio programme or podcast? You can download a track here (if you are registered).
Tour details:
Singer, Harpist and BBC Radio 2 Folk Award Musician of the Year 2017 Rachel Newton's fourth solo album West was recorded in her late grandparents' old croft house in Achnahaird, Wester Ross. The album will be released on the 28th September followed by a solo tour across the U.K.
Always striving to achieve something different with each release, Rachel decided that she would make a completely solo album this time around, simply featuring her voice and acoustic and electro harps with no guest musicians. As this felt a more personal and intimate project, she wanted to record in a space that held a special meaning to her. Her grandparents' house, where she spent all her school holidays from Edinburgh as a child and the characters who passed through it over the years have had a profound impact on Rachel as a person and a musician.
The album was arranged and recorded on a beautifully sunny week in July 2018 with trips to the beach and out to sea on Rachel's father's boat in between takes. Rachel's longtime collaborator and sound engineer Mattie Foulds travelled north to record it all, with Somhairle MacDonald joining them to take photographs and create the artwork. The spectacular views of the landscape from the house have influenced the music, with short improvisations named after the mountains threading their way through the album.
Rachel released solo albums The Shadow Side in 2012 , Changeling in 2014 and Here's My Heart Come Take It in 2016. Here's My Heart Come Take It was shortlisted for the Scottish Album of the Year (SAY) Award 2017. Rachel was awarded Instrumentalist of the Year in the Scots Trad Music Awards 2016 and BBC Radio 2 Folk Awards Musician of the Year in 2017. As well as voice and harp, Rachel also plays piano, fiddle and viola and has worked across a range of performance platforms including theatre and storytelling. A skilled collaborator in addition to her solo work, Rachel is a member of The Furrow Collective and The Shee as well as projects such as The Elizabethan Session and the upcoming Lost Words Spell Songs.
Album Launch Dates (see www.rachelnewtonmusic.com for details) :
2/10/18 The Lemon Tree, ABERDEEN
3/10/18 Dunoon Burgh Hall, DUNOON
4/10/18 Paisley Arts Centre, PAISLEY
6/10/18 Slaughtered Lamb, LONDON
7/10/18 Haverhill Arts Centre, HAVERHILL, SUFFOLK
9/10/18 The Art House, SOUTHAMPTON
10/10/18 House Concert, NEWARK (contact info@rachelnewtonmusic.com for details)
11/10/18 Black Swan Folk Club, YORK
12/10/18 The Pound Arts Centre, CORSHAM, WILTSHIRE
13/10/18 House Concert, HEREFORD (contact info@rachelnewtonmusic.com for details)
Read more about Rachel Newton at their website.
FolkWaves is a Hands Up for Trad project. Sign up for our weekly Scottish music information newsletter here.
Follow these topics: Tour Info