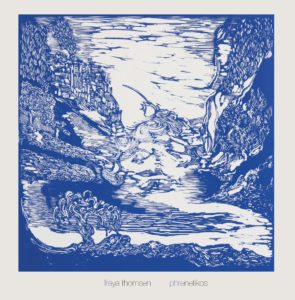 I composed this piece
for a concert at Edinburgh International Harp Festival 2016. It is the musical counterpart to my exploration of the desire to belong to a community, and the beginnings of an understanding as to why we humans might crave this. It was composed in East London, a place that's a stark contrast with the remote Scottish Highlands where I spent my early years. Phrenetikos feels like an onomatopoeic word for the feeling I often get from spending lots of time on social media and is the Greek origin of the word
frenetic.
Music composed, performed, engineered, produced: Fraya Thomsen
Mixed, mastered: Gary Harper
Artwork: Django Thomsen
Graphic design: Renee van Baalen
Fraya Thomsen is an internationally renowned clarsair, vocalist and composer who holds an MA in Composing for Film from the NFTS and a BA (Hons) in Scottish Music from the RCS. In February 2017 she presented her New Voices commission Community and Stardust at Celtic Connections. She has won awards for her film composition and has composed music for live performance, dance and art installations. Film 4 journalist Simran Hans wrote "her music is imbued with a real sense of magic… something quite extraordinary." Her Scottish harp and song duo with Gillian Fleetwood 'The Duplets' have released two albums to critical acclaim. Fraya was the musician in residence at Feis Rois in 2011/12 and published three harp tuition books with Taigh Na Teud. Her compositions have been included in the Scottish music grade exams, the Royal National Mod syllabus and Trinity Harp Syllabus. In 2018 she released 'Phrenetikos' an E.P. of music composed for a live performance at Edinburgh International Harp Festival 2016.
Artist website: http://www.frayathomsen.com
Single title: Phernetikos
Album title: Phrenetikos
Release Date: 06/04/2018
Single artist: Fraya Thomsen
Single duration: 20:40
Record Label: Community and Stardust
Catalogue No: 001
Writers: Fraya Thomsen
Publishers: Fraya Thomsen
Explicit?: No
Search Terms:
Follow these topics: clarsach / harp, Featured release, Releases