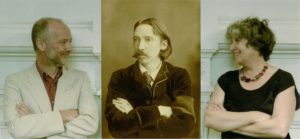 Neil Adam and Judy Turner are touring Scotland in the near future. Why not play a track from Neil Adam and Judy Turner to promote the tour on your radio programme or podcast? You can download a track here (if you are registered).
Tour details:
"Sing Me A Song" is the delightful story of the life and wit of master story teller, diarist, photographer and humourist Robert Louis Stevenson. The show features the lyrics of Stevenson, set to music by guitarist/vocalist/ songwriter Neil Adam (who started his Scottish music career many moons ago with Silly Wizard) and the fiddle and uke skills of Judy Turner (founder of a folk dynasty through her work with the famous Melbourne Scottish Fiddle Club) who also narrates the show. RLS' family photographs round off the show. Dates as follows:
Thurs. 28 September : East Kilbride Public Library: Glasgow
Sat. 30 September : Wigtown Book Festival : Swallow Theatre
Wed. 4 October : Ulverston, Cumbria : Coronation Hall
Thurs. 5 October : Carlisle Book Festival : Tullie House
Sat. 7 October : Carlops Music Club, Carlops Hall, East Lothian
Thurs. 12 October : Museum nan Eilean Uist & Barra, Sgoil Lionacleit, Benbecula
Fri. 13 October : Museum nan Eilean Uist & Barra, Stornoway, Lewis
Tues. 17 October : North Berwick Public Library
Wed. 18 October : Dunfermline Folk Club, The Monarch Bar, 43-45 James Street
Read more about Neil Adam and Judy Turner at their website.
FolkWaves is a Hands Up for Trad project. Sign up for our weekly Scottish music information newsletter here.
Follow these topics: Tour Info