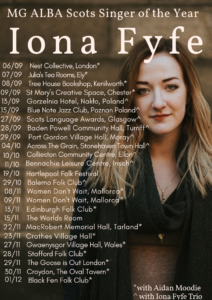 Iona Fyfe are touring United Kingdom – Poland – Spain in the near future. Why not play a track from Iona Fyfe to promote the tour on your radio programme or podcast? You can download a track here (if you are registered).
Tour details:
September
13/09 Gorzelnia Hotel & Restauracja Nakło nad Notecią, Poland
15/09 Blue Note Poznan, Poland
27/09 Scots Language Awards, Mitchell Theatre, Glasgow
28/09 Baden Powell Community Hall, Turriff
29/09 Port Gordon Village Hall, Aberdeenshire
October
04/10 Stonehaven Town Hall, Across The Grain
10/10 Collieston Community Centre, Ellon
11/10 Bennachie Leisure Centre, Insch
19/10 Hartlepool Folk Festival
29/10 Balerno Folk Club
November
08/11 Women Don't Wait Mallorca (supporting Jackie Oates)
09/11 Women Don't Wait Mallorca (supporting Jackie Oates)
13/11 Edinburgh Folk Club
15/11 The Worlds Room, Edinburgh
22/11 MacRobert Memorial Hall, Tarland
23/11 Crathes Village Hall, Crathes
27/11 Gwaenysgor Village Hall, Wales
28/11 Stafford Folk Club
29/11 The Goose is Out, London
30/11 Croydon, The Oval Tavern
01/12 Black Fen Folk Club, Cambridge
Read more about Iona Fyfe at their website.
FolkWaves is a Hands Up for Trad project. Sign up for our weekly Scottish music information newsletter here.
Follow these topics: Tour Info