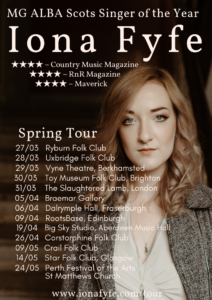 Iona Fyfe is touring Scotland and England in the near future. Why not play a track from Iona Fyfe to promote the tour on your radio programme or podcast? You can download a track here (if you are registered).
Tour details:
March
27/3 Ryburn Folk Club
28/3 Uxbridge Folk Club
29/3 Berkhamsted Vyne Theatre
30/3 Toy Museum Folk Club, Brighton
31/3 Slaughtered Lamb, London
April
05/4 Braemar Gallery
06/4 Dalrymple Hall, Fraserburgh
09/4 RootsBase, Edinburgh
19/4 Aberdeen Music Hall – Big Sky Sessions
26/4 Corstorphine Folk Club, Edinburgh (SOLD OUT)
May
09/05 Crail Folk Club
14/05 Star Folk Club, Glasgow
24/5 Perth Festival of the Arts, St Matthews Church
Read more about Iona Fyfe at their website.
FolkWaves is a Hands Up for Trad project. Sign up for our weekly Scottish music information newsletter here.
Follow these topics: Tour Info