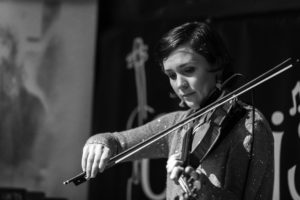 Gráinne Brady are touring United Kingdom in the near future. Why not play a track from Gráinne Brady to promote the tour on your radio programme or podcast? You can download a track here (if you are registered).
Tour details:
"Arrangements evoke both adversity and lively inner strength." ***** RnR Magazine
BEYOND: The Story of an Irish Immigrant is an interesting new project which explores the social themes associated with the mass immigration of the Irish to Scotland, particularly at the start of the 20th century. Gráinne Brady's debut album 'The Road Across the Hills', the first part of this project, delves into the life of the Irish Immigrant in Scotland, a country to which many Irish came to seek work over the last few centuries.
With all music composed by Brady, 'The Road Across the Hills' acts as a soundtrack to the novel 'Children of the Dead End', the unofficial autobiography of Donegal poet and writer Patrick MacGill. Born in Glenties in 1889, MacGill emigrated to Scotland in the 1900s, and with barely an education, began to discover his talents as a writer whilst working as a labourer on the railways in Glasgow and as a navvy in Glencoe. His writings reflected on his growing preoccupation with the poor, the downtrodden and the workers who, like himself, toiled in the mud to build civilisation but lived on the outside of society.
With themes of immigration and extreme poverty, each track on 'The Road Across the Hills' was written in response to pivotal moments in the novel; a book that has stuck with Gráinne since first reading it as a child.
Entwining the musical tale are excerpts from MacGill's poetry, acting as a reflection upon the story, adding even more depth to the soundtrack. The music will take the listener on a journey; from MacGill's childhood in rural Donegal, to gruelling labour in Scotland, as a potato picker, or 'tattie howker', labourer and navvy, with some colourful characters along the way, as well as a bittersweet story of love and loss.
Gráinne's band will be performing music from 'The Road Across the Hills' with storytelling and spoken word.
June 4th – The Ceilidh Place, Ullapool
https://www.theceilidhplace.com/whats-on/gigs.html
June 5th – Abriachan Hall, Inverness
https://www.moniackmhor.org.uk/courses/grainne-brady-abriachan-hall/
June 5th – Comar, Tobermory, Isle of Mull
http://www.comar.co.uk/whats-on/gr%C3%A1inne-brady-presents-beyond-story-irish-immigrant
Read more about Gráinne Brady at their website.
FolkWaves is a Hands Up for Trad project. Sign up for our weekly Scottish music information newsletter here.
Follow these topics: Tour Info
Download Statistics
No download recorded.